Main content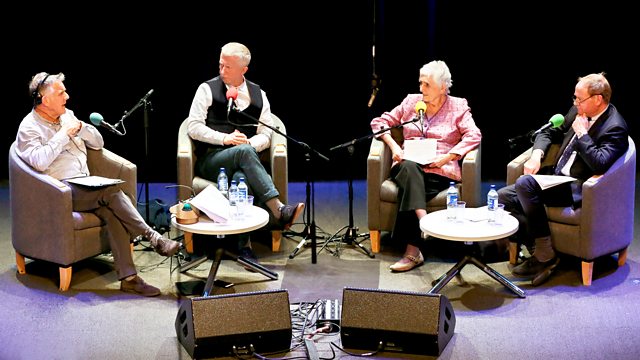 Made for 4 Extra. With over 150 years of collective comedy-making experience between them, Paul Jackson, Beryl Vertue, John Lloyd and Jimmy Mulville pick their top comedic moments.
Instead of guest Comedy Controllers, choosing their comedy favourites, it is now the turn of those who, in their own ways, have to take the blame for many of the shows often featured on Radio 4 Extra. Between them, Paul Jackson, Beryl Vertue, John Lloyd and Jimmy Mulville have well over a 150 years of gut-busting, side-aching woofers, gags and - let's be honest - the occasional horrific mistimed silence.
In front of an audience in the iconic Radio Theatre in Broadcasting House - the home of British Radio comedy - they reveal why they do it and what it was (and is) that made them laugh. Over four extended episodes they survey broadcast comedy from its origins before and during the Second World War to the laughs (and groans) of the internet age. And they select their favourite moments.
Programme 1. Origins - The Real Comedy Controllers take us back to the stars of Variety and the entertainers of World War II, the men and women (though largely men) who entertained us through the dark days of conflict and the drab times of austerity and rationing. Episodes featured include:
* ITMA - It's That Man Again (Victory Edition).
Tommy Handley's gang celebrate victory in Europe, as broadcast on 10th May 1945. With the BBC Augmented Variety Orchestra.
* The Goon Show - "The Phantom Head Shaver (of Brighton)"
As baldness breaks out in Brighton, is there a connection to a glut of cheap tobacco? From October 1954.
* The Navy Lark - "The Multiple Mines"
A drunken night out sparks chaos when an old mine used as a collection box is set adrift. From May 1959
* Hancock's Half Hour - "Sunday Afternoon At Home"
Bored and miserable, the lad tries to decide what to do. From April 1958
Series Producers: Paul Kobrak and Dixi Stewart.
Made for BBC Radio 4 Extra.
Last on

Clips

Broadcasts