Main content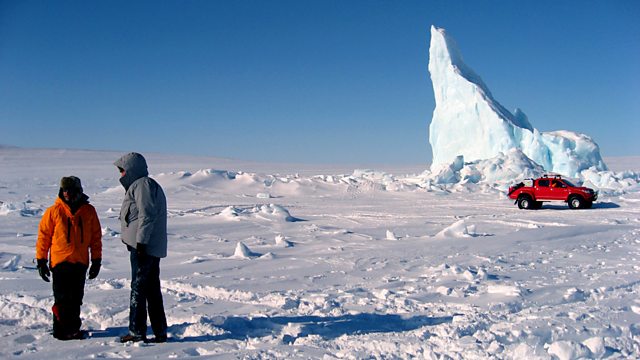 Jeremy Clarkson, James May and Richard Hammond face an arduous challenge as they attempt to race from northern Canada to the North Pole, a 450-mile journey.
It's the ultimate test of man against machine or should that be dog against machine? Either way, it's Top Gear's most ambitious and arduous challenge to date.
Jeremy Clarkson, James May and Richard Hammond attempt to race from the town of Resolute in northern Canada to the Magnetic North Pole, 450 miles away.
The terrain in between is some of the toughest on earth - a mix of mountainous land masses and jagged sea ice where temperatures can drop to -65C. And then there are the polar bears - the Arctic is home to 80 per cent of the world's population, and when it comes to lunch they really don't care if it's seal or human.
This being Top Gear, the three presenters' modes of transport are a little out of the ordinary. Jeremy and James drive a specially adapted pickup truck, whilst Richard travels on something a little less high-tech - a sled pulled by a team of ten Canadian Inuit dogs.
Pitting dog power against horse power may sound like a one-sided contest, but given the nature of the terrain, there's no telling who will make it to the Pole first. In fact, there's no guarantee that either team will reach the finish line at all.
Credits
| Role | Contributor |
| --- | --- |
| Presenter | Jeremy Clarkson |
| Presenter | Richard Hammond |
| Presenter | James May |
| Director | Nigel Simpkiss |
| Executive Producer | Andy Wilman |
Broadcasts
BBC Two

except East, Wales & Yorkshire

BBC Two

except East, Scotland & Yorkshire