Main content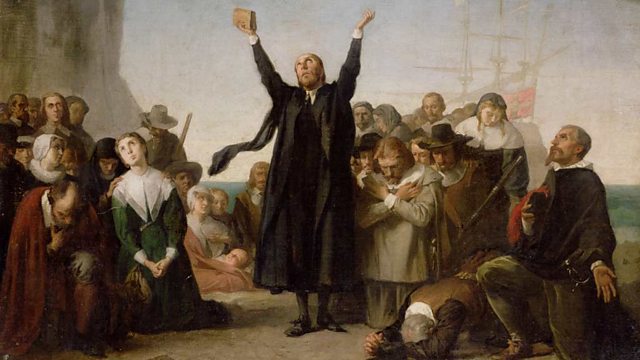 The Pilgrim Fathers
Melvyn Bragg discusses the Pilgrim Fathers and why their 1620 voyage on the Mayflower has become iconic in the American imagination.
Melvyn Bragg and guests discuss the Pilgrim Fathers and their 1620 voyage to the New World on the Mayflower. Every year on the fourth Thursday in November, Americans go home to their families and sit down to a meal. It's called Thanksgiving and it echoes a meal that took place nearly 400 years ago, when a group of religious exiles from Lincolnshire sat down, after a brutal winter, to celebrate their first harvest in the New World. They celebrated it in company with the American Indians who had helped them to survive.These settlers are called the Pilgrim Fathers. They were not the first and certainly not the largest of the early settlements but their Plymouth colony has retained a hold on the American imagination which the larger, older, violent and money-driven settlement of Jamestown has not.With Kathleen Burk, Professor of Modern and Contemporary History at University College London; Harry Bennett, Reader in History and Head of Humanities at the University of Plymouth; Tim Lockley, Associate Professor of History at the University of Warwick
Last on

Broadcasts

Featured in...
Browse the 17th Century era within the In Our Time archive.

Discussion of religious movements and the theories and individuals behind them.

Historical themes, events and key individuals from Akhenaten to Xenophon.