Main content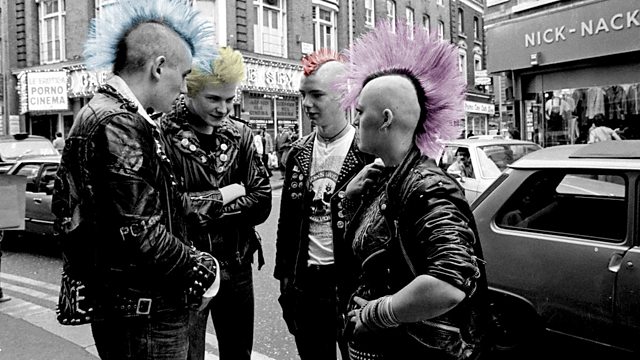 Steve Lamacq looks back on the events of 1976, which led to the explosion of punk music.
Steve Lamacq look at the events of 1976, which led to the explosion of punk music.
By the mid-70s the UK was experiencing economic meltdown. Lengthening dole queues and a grey landscape of high rise disasters stood in rubbish-strewn streets. In retrospect, it was inevitable that the music of the time would be dark, nihilistic and fuelled by an energized political anger.
Whilst the New York music scene, built around CBGBs, was much more rooted in rock's rich tapestry and art school ideas, it was nowhere near as ferocious and dangerous as what was happening in the UK. The London punk scene, initially driven by Malcolm McLaren's clever posturing, was given added power by John Lydon's fierce intelligence and neo-psychotic glare.
The Sex Pistols were getting out onto the circuit, wrecking PAs and getting occasional column inches. The Stranglers were gigging around the country, trading punches with irate punters. In Bolton Buzzcocks read a paragraph about the Pistols in the NME and drove all the way down to London to search for the band. TV Smith was putting together The Adverts in Torquay. Elsewhere, the capital was calling and the Clash were on hand to write the soundtrack. Everywhere punk rock was beginning to emerge.
All these loose strands were beginning to coalesce around the Sex Pistols. McLaren noticed this and managed to place the movement behind his group and his shop. the race was nearly over and London was about to win. A generation of kids, feeling let down by the government had at last found an expression for their discontent, a music that spoke back to them.
This documentary was first broadcast in December 2006, to mark thirty years since the birth of punk.