Main content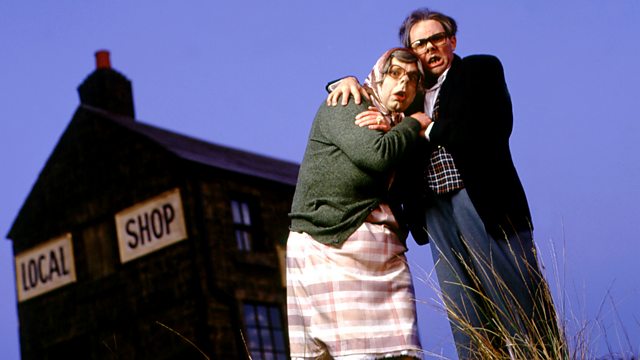 Yo! Well wicked Barry Cryer presents A Look Back at the Nineties, Hair in the Gate, The Now Show, Goodness Gracious Me, On the Town With the League of Gentlemen, and On the Hour.
Decade by decade, Barry Cryer showcases some of the funniest and finest shows ever broadcast by the BBC.
Yo! Well wicked Baz presents six fave shows plucked from the 1990s schedules of BBC Radio 4 and BBC Radio 5:-
* A Look Back At The Nineties
(2/5) 1996:
Recorded in 1993 - Brian Perkins, Kate Robbins and Chris Barrie "look back" at the decade that was yet to happen.
* Hair in the Gate
Series 1 (3/6)
Camilla revamps the TV arts show to keep her cutting edge lover. Stars Harriet Thorpe and Alistair McGowan. From 1993.
* The Now Show
Series 3 (4/13)
Steve Punt and Hugh Dennis poke fun at events of 1999 via sketches, songs and stand-up. With Bert Tyler-Moore, George Jeffrie, Mitch Benn and Marcus Brigstocke.
* Goodness Gracious Me
Series 3 (6/6)
'The Archers' and 'The Waltons' with a twist and The Minx Twins tackle feminism. Stars Sanjeev Bhaskar, Meera Syal, Nina Wadia and Kulvinder Ghir. From 1998.
* On The Town With The League of Gentlemen
(4/6) Gunpowder, Treason and Plot
The eccentric locals of the town of Spent get an unusual new guy for the bonfire. Pre-TV sitcom with Steve Pemberton, Mark Gatiss and Reece Shearsmith. From 1997.
* On The Hour
Series 2 (5/6)
Ireland hits the headlines, as the programme celebrates its 33rd birthday. Chris Morris fronts the news satire. With Steve Coogan, David Schneider, Rebecca Front, Doon Mackichan and Patrick Marber. From 1992.
Produced and scripted by Peter Reed
First broadcast on BBC 7 in 2003.
More episodes
Previous
You are at the first episode