Main content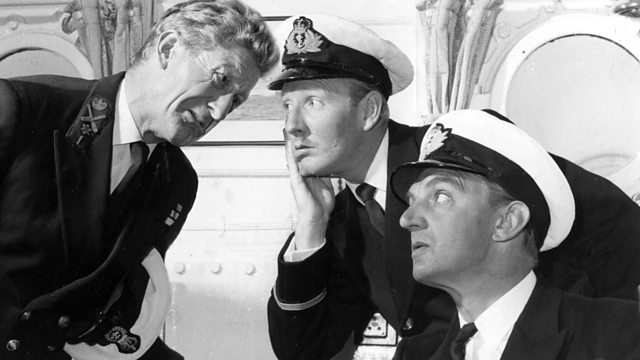 Pertwee and the Tratvian Beer
VIPs from 'The Embassy Lark' hitch a ride aboard Troutbridge. Guest stars Derek Francis and Frank Thornton. From November 1966.
Embassy VIPs from 'The Embassy Lark' hitch a ride aboard HMS Troutbridge to Tratvia.
Stars Leslie Phillips as the Sub-Lieutenant, Jon Pertwee as the Chief Petty Officer, Stephen Murray as the Number One, Richard Caldicot as Captain Povey, Heather Chasen as the Russian Minister of Culture, Tenniel Evans as LS Goldstein, Michael Bates as The Padre and Ronnie Barker as AS Johnson.
With special guests Derek Francis as British Ambassador, Sir Jeremy Crichton-Buller and Frank Thornton as First Secretary, Henry Pettigrew. Both are characters from The Navy Lark spin-off – The Embassy Lark which ran from 1966 to 1968 set in the British Embassy in the fictional country of Tratvia.
Laughs afloat aboard British Royal Navy frigate HMS Troutbridge. The Navy Lark ran for an impressive thirteen series between 1959 and 1976.
Scripted by Lawrie Wyman
Incidental Music by Tommy Riley and James Moody.
Producer: Alastair Scott Johnston.
First broadcast on the BBC Light Programme in November 1966.