Main content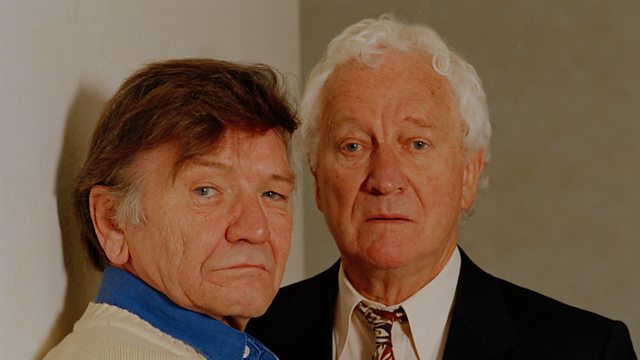 Reporter George is due in court and BBC controllers plot to axe the Director General. Stars Michael Williams. From 1995.
Reporter George is due in court - while BBC controllers keep on plotting to axe the Director General.
London is plagued by a series of bizarre murders of bank managers. Hot on the trail of the killer are an old-style Chief Police Inspector and BBC Radio's crime correspondent, George Cragge.
A blackly humorous murder mystery set in the world of City finance, the BBC and political parties. Dramatised in seven-parts by Mark Tavener and Peter Baynham from Mark Tavener's novel.
George Cragge ...... Michael Williams
Frank Jefferson ...... Barry Foster
Geoffrey Crichton-Potter ...... Stephen Moore
Henry ...... Julian Rhind-Tutt
Max ...... Peter Woodthorpe
Controller Radio 2 ...... Stephen Fry
Controller Radio 4 ...... John Bird
Dominic De'ath ...... Benjamin Whitrow
Hercules Fortescue ...... Nicholas Le Prevost
Andrew James ...... Peter Serafinowcz
Laetitia ...... Victoria Carling
Controller BBC 1 ...... Ian McNiece
Prosecution ...... Geoffrey Whitehead
Fortescue's PA ...... Jane Slavin
With Alice Arnold, Eva Stuart, Gavin Muir, Annabel Mullion and Richard Turner.
Music by Paul Mottram
Producer: Paul Schlesinger
First broadcast on BBC Radio 4 in 1995.