Main content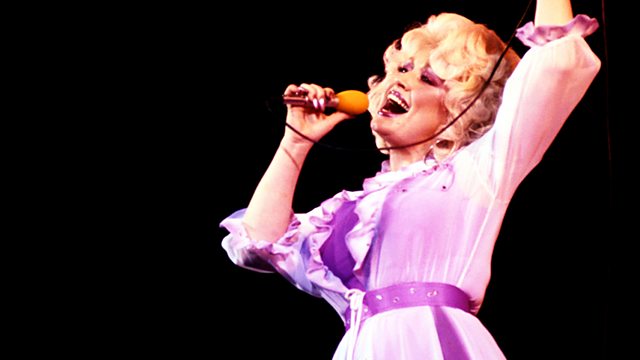 Queens of Country
Documentary about six female icons of country music - Patsy Cline, Tammy Wynette, Bobbie Gentry, Loretta Lynn, Tanya Tucker and Dolly Parton - with contributions from famous fans.
The story of six women with big hair and bigger voices who came out of the South and changed America and its music for good. The 60s and 70s were the golden age for this music from the battlefield of marriage - songs about the hurt and pride of raising a family, about standing by your man (or standing up to him), about going crazy with love.
The six are: Patsy Cline, whose weeping ballads made country music modern; Tammy Wynette, her life a chaos of divorce, violence and pills; Bobbie Gentry, who quit recording 35 years ago; Loretta Lynn, the coalminer's daughter who went on to rock with the White Stripes; Tanya Tucker, a teen queen who made country music sexy; and Dolly Parton, who made millions singing of the world she left behind.
Contributors include Billy Connolly, Jack White, LeAnn Rimes, Lauren Laverne, Crystal Gayle, George Jones and Elvis Costello. Featuring rare archive performances.
Clips

Music Played
Timings (where shown) are from the start of the programme in hours and minutes
Loretta Lynn

Don't Come Home A Drinkin'

Tammy Wynette

Stand by your Man

Bobbie Gentry

Ode to Billy Joe

Tanya Tucker

Would you Lay With Me (in a field of stone)

Patsy Cline

Lovesick Blues

Patsy Cline

A Church, A Courtroom and then Goodbye

Patsy Cline

I've Loved and Lost Again

Patsy Cline

Walkin' After Midnight

Patsy Cline

Come On In (and make yourself at home)

Patsy Cline

I Fall to Pieces

Patsy Cline

Sweet Dreams (of you)

Loretta Lynn

Your Squaw is on the Warpath

Loretta Lynn

Coal Miner's Daughter

Dolly Parton

Little Sparrow

Dolly Parton

Seven Bridges Road

Loretta Lynn

I'm a Honky Tonk Girl

Loretta Lynn

One's on the Way

Crystal Gayle

Don't it Make My Brown Eyes Blue

Loretta Lynn

Miss Being Mrs

Loretta Lynn

Portland Oregon

Bobbie Gentry

My Dog Sergeant

Bobbie Gentry

&

Tears of Joy

Chickasaw County Child

Mason Williams

&

Bobbie Gentry

'A' Major Thang

Bobbie Gentry

&

Glen Campbell

Let it be Me

Bobbie Gentry

I'll Never Fall in Love Again

Tammy Wynette

I Don't Wanna Play House

Tammy Wynette

Apartment #9

Tammy Wynette

D-I-V-O-R-C-E

George Jones

The Race is On

Tammy Wynette

&

George Jones

Milwaukee Here I Come

Tammy Wynette

&

George Jones

We Loved it Away

Tammy Wynette

&

George Jones

Hold On (to the love I got)

George Jones

&

Tammy Wynette

Golden Ring

Tammy Wynette

Precious Memories

Tanya Tucker

Texas When I Die

Tanya Tucker

Blood Red and Going Down

Tanya Tucker

Tear me apart

Tanya Tucker

Highway Robbery

Tanya Tucker

&

Glen Campbell

Dream Lover

Tanya Tucker

&

Glen Campbell

Star-Spangled Banner

Dolly Parton

&

Porter Wagoner

It's my time

Dolly Parton

Coat of Many Colours

Dolly Parton

My Blue Ridge Mountain Boy

Dolly Parton

In the Sweet By and By
Credits
| Role | Contributor |
| --- | --- |
| Producer | Jill Nicholls |
| Director | Jill Nicholls |
| Executive Producer | Mark Cooper |
| Executive Producer | Mark Hagen |
| Participant | Patsy Cline |
| Participant | Tammy Wynette |
| Participant | Bobbie Gentry |
| Participant | Loretta Lynn |
| Participant | Tanya Tucker |
| Participant | Dolly Parton |
| Participant | Billy Connolly |
| Participant | Jack White |
| Participant | LeAnn Rimes |
| Participant | Lauren Laverne |
| Participant | Crystal Gayle |
| Participant | George Jones |
| Participant | Elvis Costello |