Main content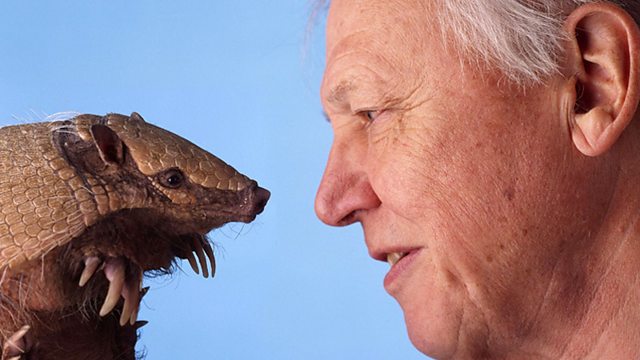 David Attenborough concludes his documentary series with a programme about the similarities and differences between humans and other mammals.
David Attenborough concludes his documentary series with a programme about our closest animal relatives, the intelligent great apes, and finds out how their large brains enabled one of their kind, an upright ape, to go on to dominate the planet. David travels to the forests of Borneo to meet a remarkable orangutan with a passion for DIY and a talent for rowing boats. He shifts continent to Africa and takes part in a special nut-cracking lesson with a group of chimps learning survival skills. He discovers how food - and the ways apes find it - has been key to the evolution of our large brains.
Filmed for the first time, the chimps of Ngogo hunt down monkeys to supplement their vegetarian diet with meat. Our ancestors must have also hunted for meat, but with one crucial difference - they did so on two feet. David meets an extraordinary group of wading chimps that give us a unique window into our past, the moment when we took a step away from being apes and a step towards humanity. As soon as they stood upright, humans began to manipulate their environment, transforming the very surface of the planet by domesticating plants and animals. This most successful of all mammals has been able to increase the supply of food beyond that which occurred naturally. As a result the number of human beings could increase. David travels to the ruins of the capital of the Maya people to trace the rise and fall of an entire human civilisation. The temples of Tikal used to be the highest buildings in the Americas until the skyscrapers of New York were built. So why did the Maya civilisation collapse? Will modern city-dwellers suffer a similar fate?
Last on

More episodes
Next
You are at the last episode
Clips

Credits
| Role | Contributor |
| --- | --- |
| Presenter | David Attenborough |
| Writer | David Attenborough |
| Producer | Vanessa Berlowitz |
| Series Producer | Mike Salisbury |