Main content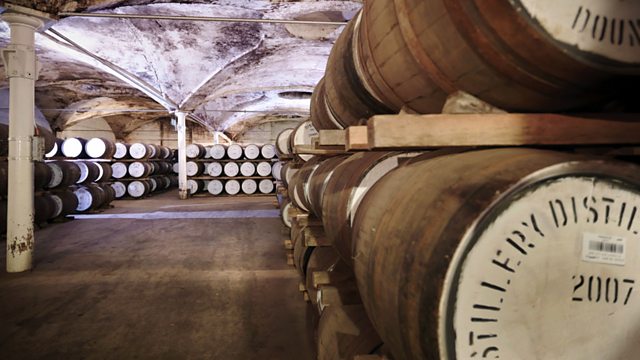 The Science of Maturation
Sheila Dillon finds out about the science of maturation and transformation in foods and drink. Andrew Jefford and Oz Clarke join the tasting of a beer of a unique vintage.
Andrew Jefford finds out about the science of maturation and fermentation in foods, and drink.
What we ferment, and why, alters the nature of the product. Tequila is the fermented juice of the cactus like blue agave plant distilled. It can be drunk unaged, as "blanco", but aged in barrels it becomes an entirely different product. Enrique de Colsa, head distiller of Jon Julio Tequila tells us why, and how, you age tequila. All alcoholic drinks require some level of maturation, generally speaking the stronger the alcohol the longer the maturation period. As our least alcoholic drink beer is generally drunk young. There are exceptions – properly made Czech lager, Belgium lambic beers - but nothing like the beers recently discovered at the Coors brewery in Burton-upon-Trent. There they recently discovered a hidden cache of old Bass beers, secreted away in now-unused cellars under the town's streets. Andrew joined Steve Wellington, Head Brewer for Worthington White Shield, Oz Clarke and "Beer Hunter" Michael Jackson at a unique tasting of these old beers, the star of the show the 1869 Ratcliff ale.
Fermentation is also extensively used in foods – cheese, bread, salami, soy sauce. Andrew is joined by Professor Christine Dodd, chair in Microbiology at Nottingham University, and expert on Stilton maturation.
Good soy sauce, as good cheese, is made slowly. Traditional soy sauce begins with whole beans, and ends 6 or more months later. Fast-track soy sauce begins with defatted soya meal and, sometimes, acid-hvp, made by mixing hydrolised vegetable protein with hydrochloric acid at high temperature and under pressure.
This fast method was behind the Food Standards Agency a few years ago issuing a warning about unacceptably high levels of a cancer-causing agent, 3-MCPD, in some samples of imported soy sauce. While this problem is now largely eradicated, speedy soy doesn't taste as good as the long, slowly aged version. In Japan high quality soy sauce is always made the traditional way, and a taste of Japan has been brought to the UK by Shoda.
Food Programme presenter Sheila Dillon and Kimiko Barber, author of The Japanese Kitchen, visited their Newport, Gwent, factory where they produce the organic soy sauce sold here by Clearspring. They are shown around by Toshio Shoda, Sales Director and Production Manager, Ed Torrance.
Last on
Broadcasts