Main content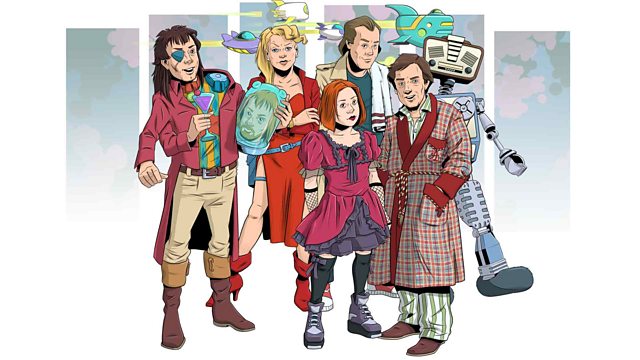 Now an item, Arthur and Fenchurch head for California to discover what happened to the dolphins. Stars Jane Horrocks. From May 2005.
Arthur's new love Fenchurch - that is her name, for she was conceived in a ticket queue at that eponymous railway station - is troubled by an experience she had once in a cafe in Rickmansworth, which made her think the Earth was being ripped apart. This event is dismissed by the majority of people on the mysteriously re-appeared Earth as a mass hallucination, but to Arthur Dent it sounds suspiciously like the day the Vogon Constructor Fleet blew up his home planet and exiled him to bootless wandering about the Galaxy.
Meanwhile Prostetnic Vogon Jeltz has been called to account for the fact that the Earth he destroyed is still serenely sitting in that quadrant of the galaxy called ZZ9 Plural Z Alpha. Being a planet in a Plural Zone, the Earth actually exists on several levels of Probability, and thus when one Earth is destroyed, chances are pretty good that another will just pop into existence in its place. The Court of Enquiry on Megabrantis is a dangerous place to develop a tickly cough but it is agreed that a new method of destroying ALL the Potential Earths must be found if the paperwork is to be kept in order. This, however, may have to be undertaken in a less overt, more sneaky manner than before.
After a short romantic interlude, which includes the revelation that Fenchurch's feet do not touch the ground and that she shares Arthur's handy knack of flying, the disappearance of all the dolphins shortly before her nervous breakdown suggests to Fenchurch that a Californian scientist and dolphin expert named Wonko The Sane may be able to advise them on what may have occurred. Using contacts like the friendly if decidedly odd journalist Murray Bost Henson to find Wonko's whereabouts, they travel to the USA and meet him in a curious inside-out house on the shores of the Pacific Ocean called The Outside of The Asylum. It is here that Wonko reveals that the grey glass bowls, both inscribed 'So Long And thanks For All The Fish', are in fact vessels bearing the farewell messages of the dolphins.
This mystery solved, Fenchurch has decided she would like to leave the planet.