Main content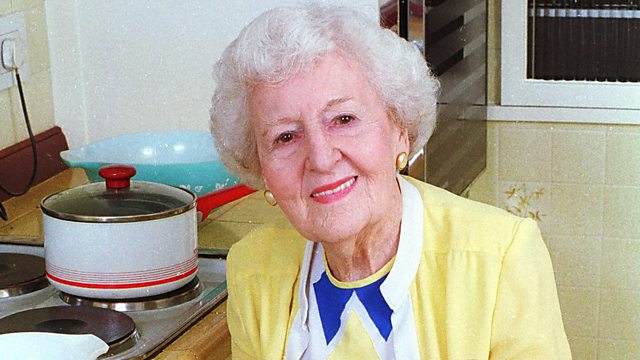 Hard Times and Omelettes, 1930-1939
Seasonal salmon and chicken in the pre-tinfoil kitchen days. The food guru's history of 20th-century British cooking. From May 1999.
Perfect Roast Chicken, Cod's Roe and Bacon, Mock Fish Cakes, Poached Salmon, Coconut Pyramids and an Omelette en Surprise.
Marguerite Patten mingles recipes of the 1930s with memories of the abdication of Edward VIII, the Graf Zeppelin and the Depression - in her 10-part history of British cooking.
Marguerite told us how to make the most of our rations during the Second World War in 'Kitchen Front' on the BBC Home Service. She fronted her first BBC TV cookery show in 1947.
Born in Bath, the home economist was widely considered to be the first celebrity cook, and wrote more than 170 books with worldwide sales of 17 million.
A regular contributor to BBC Radio 4's Woman's Hour programme from 1946, Marguerite's final appearance was in 2011. She was awarded the OBE in 1991 and CBE in 2011.
Born November 4th 1915, Marguerite Patten died just a few months short of her 100th birthday in June 2015.
Producer: Ian Willox
First broadcast on BBC Radio 4 in 1999.