Main content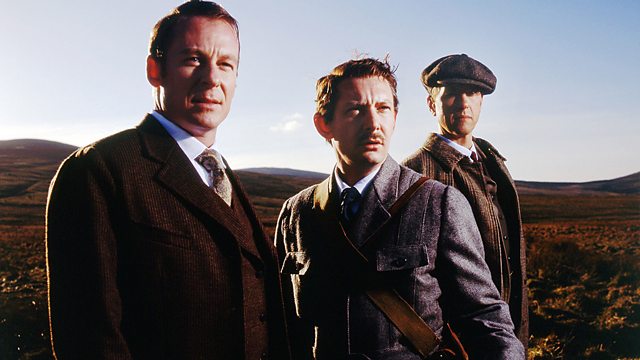 The Hound of the Baskervilles
Sherlock Holmes and Dr Watson have to confront the forces of evil on Dartmoor when they are called in to investigate the death of Sir Charles Baskerville.
Sir Arthur Conan Doyle's legendary hero Sherlock Holmes faces the beast of Dartmoor in a chilling thriller.
The Baskerville family is cursed. Sir Charles Baskerville has lived in obsessive fear of a family legend in which a spectral hound wreaks vengeance on his ancestors. His death seems innocent enough but Mortimer, his friend and physician, is uneasy and suspicious.
Sherlock Holmes confronts his most famous and complex case, which tests his detective skills to the limit. At times it seems that he will lose the game as his foe outwits and eludes him.
Is it possible that one of the century's most developed deductive minds has met his equal?
Mystery, suspense and terror as Sherlock Holmes and Doctor John Watson confront the forces of evil on Dartmoor.
Credits
| Role | Contributor |
| --- | --- |
| Sherlock Holmes | Richard Roxburgh |
| Dr John Watson | Ian Hart |
| Stapleton | Richard E Grant |
| Henry Baskerville | Matt Day |
| Mrs Stapleton | Neve McIntosh |
| Dr Mortimer | John Nettles |
| Mrs Mortimer | Geraldine James |
| Barrymore | Ron Cook |
| Mrs Barrymore | Liza Tarbuck |
| Inspector Lestrade | Danny Webb |
| Clayton | Richard Hawley |