Main content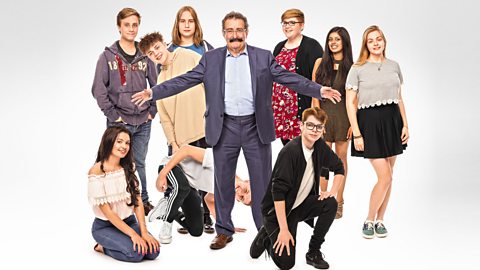 Child of Our Time
Professor Robert Winston follows the development of 25 children born in 2000
On TV
No upcoming broadcasts
Supporting Content
About the series

In the year 2000 the BBC embarked on a ground-breaking project – to follow the lives of 25 babies born in the UK. At 16, these children of our time are almost fully grown. They are now free to live by themselves, have sex, get married, pay taxes and even have children of their own.

In this two-part series, BBC One finds out what it really means to be a 16-year-old in the 21st century. It's an age where everything is changing – our teenagers may look grown up, but their brains are still being shaped as they step out into a world changing faster than at any time since the 1960s. So what is determining the adults they are becoming? To what extent are they influenced by their biology, their upbringing or the changing world around them?

Over the last 16 years we've seen our children face many challenges – from disease, to divorce and family death. As each teenager now embarks on one of the most profound transformations of their lives, we see how the experiences of their childhood are guiding them through their first steps into adulthood. 

With surprising new research in neuroscience we reveal many aspects of teenage life can be explained by the latest understanding of the changing teenage brain. The brains of our 16-year-olds are wired to feel more self-conscious, to be more mentally creative, and to feel more intense pleasure, than at any other time in their lives. 

But it's not just our children's brains that are changing. Since they were born 16 years ago the very nature of family life and society has transformed. To find out how growing up in the modern, digital world is shaping them, the Child of Our Time teenagers gave us unfettered  access to their phones. In our unique experiment we reveal what are 16-year-olds are up to online, and what impact 24/7 media engagement has on their sleep, their stress levels, and their growing social skills. 

Through intimate stories, compelling archive and experiments Child of Our Time brings you the inside story of today's 16-year-olds. 

Marie Blake 1969-2016

This series is dedicated to one of our Child of Our Time mothers, Marie Blake, who sadly died in 2016. 

She was the mother of Tyrese, Chanel and Tanesha and an important part of the series since it began in 2000. 

Eve: How does it feel to be a Child of Our Time teen?

Watching myself on TV, above all else, is pretty cool. I love being able to see myself a little bit more like other people see me.

Watching the show back from when I was little is very interesting – I can't remember as far back as when the filming started so it's like I'm watching a different person.

I can't really relate to 5-year-old me but I can have a giggle at the same things she does and the insights that the psychologists give are things that can be applied to my life today as well in a few cases!

I feel very lucky to be able to see my life in such detail thanks to Child of Our Time and I'm so glad I've had the opportunity to look at my history through the series.