Main content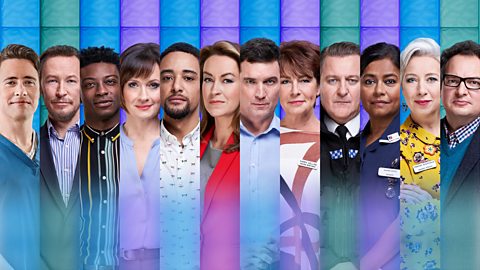 Doctors
Your regular appointment in Letherbridge. In a busy Midlands GP practice, the turbulent lives and loves of the staff and patients mean there's always humour and heartbreak.
Supporting Content
A poem from Geoffrey's memorial service

THE SINGING CAT

By Stevie Smith

 

It was a little captive cat

Upon a crowded train

His mistress takes him from his box

To ease his fretful pain. 

 

She holds him tight upon her knee

 The graceful animal

And all the people look at him

 He is so beautiful.

 

But oh he pricks and oh he prods

 And turns upon her knee

Then lifteth up his innocent voice

 In plaintive melody.

 

He lifteth up his innocent voice

 He lifteth up, he singeth

And to each human countenance

 A smile of grace he bringeth.

 

He lifteth up his innocent paw

 Upon her breast he clingeth

And everybody cries, Behold

 The cat, the cat that singeth.

 

He lifteth up his innocent voice

 He lifteth up, he singeth

And all the people warm themselves

 In the love his beauty bringeth. 

 

                                                 

Published with permission of Faber & Faber Ltd

Poetry on Doctors

Specially written poetry was featured in two episodes this week. 

On Tuesday, 5 March the episode 'Shrovetide' featured this poem by the Jeremy Hylton Davies:

'This Day'

This Minute is Yours
This Hour, This Day
The footprint in the sand,
This beach.
The crackling of leaves underfoot
The Winter birds in song
This forest.

This climb, peak heading
Crossing rock and stream,
This mountain.
This smile.

This laughter,
This hand, clasping yours,
Skin binding skin, 
The forever bond between,
You and me.

This happy moment.
This is Yours.

And Ours.
Forever Ours.




On Wednesday, 6 March the episode 'The Sharper the Tongue' by Andrew Cornish featured this poem by Andrew:




The darker the berry, the more sour the fruit.
The brighter the flower, the more bitter the root.
The sharper the tongue, the sweeter the smile;
The wolves in sheep's clothing bewitch and beguile.
They speak to you kindly to lead you astray,
To feast on your sadness, your fear and dismay.
So honour your father, repent all your sin,
And always beware of the beast from within.

Words and music from Heston's funeral

Here's a list of the songs and readings from Heston's funeral.

Music 

Bach                 Goldberg Variations                        Glenn Gould

Mozart          Requiem:  Lacrimosa      

Slade                 Cuz I love you

Trad.                 Morning Has Broken

Tallis                     Mass for four voices: Agnus Dei

Mozart                 Soave si il vento from Cosi Fan Tutte

Eric Idle                Always look on the bright side of life

Nick Drake          River Man

Navin Kundra      Mehbooba (Doctors Remix)

Ruhma's reading: 

Rumi –  In The Arc of your mallet

Don't go anywhere without me.
Let nothing happen in the sky apart from me,
or on the ground, in this world or that world,
without my being in its happening.
Vision, see nothing I don't see.
Language, say nothing.
The way the night knows itself with the moon,
be that with me. Be the rose
nearest to the thorn that I am.

I want to feel myself in you when you taste food,

in the arc of your mallet when you work,

Music: Poignant Grace    Peter Nickalls                    

Go behind the scenes at the car crash!

Still reeling from the dramatic car crash?

Go behind the scenes with our exclusive video, and see how we did it.

CLICK HERE!

Read Doctors scripts at BBC Writersroom!

Our friends at BBC Writersoom have added the following Doctors scripts to their library

Walk a Mile by Toby Walton, broadcast 19th October 2017

Boisterous by Paul Campbell, broadcast 16th January 2018

Suffer the Children by Henrietta Hardy broadcast 31st January 2018

Eggshells by Andrew Cornish, broadcast 8th May 2018

You can download the scrips to read by clicking on the link:

CLICK HERE FOR MORE!

Exclusive On Line Films for Mental Health Awareness Week

Doctors have produced a series of short films to accompany their episodes in Mental Health Awareness Week, featuring  poems and prose written by people dealing with mental health conditions (including Sathnam Sanghera, Stevie Smith, Emily Dickinson and Suli Breaks) and performed by our cast and filmed in and around the city of Birmingham.

You can follow the links below to watch them.

"Mental health problems can be hard enough" by Suli Breaks performed by Ashleigh Rice<?xml:namespace prefix = "o" ns = "urn:schemas-microsoft-com:office:office" />

"Just Because" by Adam Stones (a local poet to Birmingham) performed by Ashley Rice

'The Boy with a Top Knot' by Sathnam Sanghera  – read by Adrian Lewis Morgan

"It was Not Death" by Emily Dickinson – read by Elisabeth Dermot Walsh

 

Mental Health Awareness Week Writers Room Blog

Doctors writer Andrew Cornish talks about writing for Mental Health Awareness Week, from what sparked the idea, and how together he, Series Producer Peter Lloyd and Script Editor Nasreen Ahmed, arrived at the idea of a 6 episode special and the importance of weaving these stories in with the regular characters of Doctors. You can read his blog over on the Writers room

here

.