Main content
BBC Radio Scotland Young Traditional Musician 2016
WATCH: BBC Radio Scotland Young Traditional Musician 2016 Finalists
BBC Radio Scotland's annual search for outstanding young traditional musicians.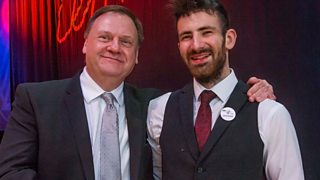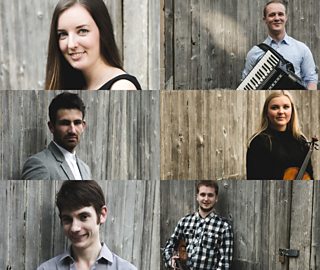 2016 finalists (clockwise from top left): Jessica Burton, Murray Willis, Hannah Macrae, Robbie Greig, Ryan Young and Mohsen Amini
BBC Radio Scotland Young Traditional Musician 2016 Finalist Biographies
Jessica Burton – clarsach (Orkney)
Born and raised in Orkney, Jessica was immersed in traditional music from a young age. She began playing the clarsach at 11 and soon joined school fiddle group Hadhirgaan, led by Douglas Montgomery. Jessica graduated with a degree in Scottish music from the Royal Conservatoire of Scotland in 2012 where she studied with Wendy Stewart and Hannah Phillips. Jessica has released an EP, Mira with fellow harpist Sarah MacNeil featuring original compositions and contemporary arrangements for clarsach and electro-harp. Jessica currently holds a teaching post at both the Glasgow Academy and the Junior Royal Conservatoire of Scotland.
Murray Willis – accordion (Lismore) Murray comes from the Isle of Lismore in Loch Linnhe, Argyll. He speaks Gaelic, has a qualification in blacksmithing and works with a welding company. Murray studied music at Benbecula College in Uist under Anna-Wendy Stevenson which he says was an eye-opener and his lessons and time spent with the brilliant tutors there greatly influenced and encouraged him. Murray is also learning the piano, alto saxophone and French.
Hannah Macrae – fiddle (Lochaber)
As a west coast fiddle player, traditional music has been in Hannah's family for generations. Having left school last year, Hannah has taken time to establish her own personal style and and varies her repertoire by playing with accomplished musicians from different places and backgrounds. Hannah is a strong believer in keeping up tradition – in particular the culture of traditional music and Gaelic – and has been teaching fiddle for the past year. She has just started the BMus Traditional Music course at the Royal Conservatoire of Scotland.
Robbie Greig – fiddle (Edinburgh)
Robbie Greig is an accomplished fiddle player who has featured on various recordings and has toured across Scotland and Europe. Robbie started learning classical violin aged 5 and soon progressed to learning traditional fiddle with Gregor Borland whilst also attending Edinburgh Youth Gaitherin' and Fèis Rois. After moving to Uist aged 16 to pursue his studies in traditional music, Robbie received tuition from renowned tutor Anna-Wendy Stevenson. There, he joined the band 'Room 5' with whom he performed at the Royal Albert Hall. Recently, he has also appeared with Malinky.
Ryan Young – fiddle (Cardross)
Ryan Young was inspired to start playing the fiddle after hearing Aly Bain on the BBC Hogmanay show and by the playing of Eilidh Steel from Helensburgh. He is currently studying towards an MMus at the Royal Conservatoire of Scotland after having graduated with a First class BA Honours. His sound is very distinctive, focusing mainly Scottish and Cape Breton tunes, always played in his own unique way ranging from slow, lyrical marches and airs to driving reels and strathspeys. A recent musical highlight for Ryan was getting to perform with Dennis Cahill, one of his biggest inspirations, at the Feakle festival in Ireland 2015.
Mohsen Amini – concertina (Glasgow)
Mohsen Amini has been playing concertina since the age of 10, learning his music through Comhaltas. His first band Muran won 'Best Newcomer' at the 2012 HebCelt Festival and his current project – Talisk – picked up a Danny Kyle Award at Celtic Connections and went on to win the 2015 BBC Radio 2 Young Folk Award. This gave them the opportunity to play a live session on the BBC Radio 2 "Folk Show" with Mark Radcliff and also to appear at many high profile folk festivals such as Cambridge, Cropredy & Towersy.
The terms and conditions for the 2016 BBC Radio Scotland Young Traditional Musician competition

1. The BBC's code of conduct for competitions applies to this competition. You can read more about it here: BBC Competitions Policy.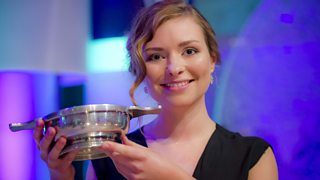 Claire Hastings, winner 2015.
2. The organisers of this competition are the BBC and Hands Up For Trad.
3. The competition is not open to employees, agents or contractors of the BBC, Hands Up For Trad and/or any affiliate or subsidiary companies, or their immediate families or any other person connected or involved with the competition.
4. The competition is only open to individual musicians who fulfil all of the following requirements:
• Entrants must be aged between 16 and 27 as at 3rd July 2015; and
• Entrants must currently reside in Scotland and must have resided in Scotland for 5 or more consecutive years.
You must inform the BBC production team if you are a member of any professional/talent union or association, such as Equity, or are represented by an agent or talent organisation. This will not affect your application or participation in the competition.
5. Where an entrant is under 18, their parent or guardian must indicate their consent to the entry on the application form.
6. To enter the competition, entrants must submit:
• a 10 minute recording of themselves playing traditional Scottish music;
• a short written biography and
• a short written paragraph regarding their interest in traditional music (Notes to the recording are also required and where possible the names of songs and/or tunes played and source/background should be detailed.)
7. All entries must be accompanied by a completed application form which can be downloaded at the BBC Radio Scotland website.
8. The organisers will only ever use personal details for the purposes of administering this competition. For more on how the BBC will use your personal details, please see the BBC's Privacy Policy. Please note that the BBC cannot be held responsible for Hand up for Trad's processing of your data.
9. Completed entries must be submitted by post to the following address:
BBC Scotland Young Traditional Musician of the Year 2016
c/o Simon Thoumire
Creative Director, Hands Up for Trad
Melville House
70 Drymen Road
Bearsden
Glasgow G61 2RH
10. The competition opens on Monday 18th May 2015. Entries received before this date will not be considered.
11. Closing time for entries is 5pm on Friday 3rd July 2015. Submissions received after this time will not be considered. Entries will not be returned so please remember to keep a copy.
12. Entrants can only enter individually. Entries from bands will not be accepted. Only one entry per person is permitted. If you submit more than one entry, only the first entry received will be considered.
13. Entries must not contain any defamatory, offensive or any other unsuitable material. Entries must be suitable to be broadcast by the BBC to audiences of all ages.
14. Entrants retain all rights in their entries but grant to the BBC a non-exclusive licence to broadcast their entry across all media, as well as use it on any online platforms.
15. Entrants warrant that they have obtained all rights necessary to grant the BBC the licence as set out in clause 14 above, and that their entry does not infringe the rights of any other party. The BBC accepts no liability if entrants ignore these rules and entrants agree to fully indemnify the BBC against any claims by any third party arising from any breach of these rules.
16. Entrants permit the BBC to edit or change entries in any way it may in its sole discretion consider necessary for the purposes of use in the competition and the uses set out in clause 14 above.
17. By entering the competition, entrants, or their parent or guardian if the entrant is under 18, warrant that they have legal capacity to enter the competition and agree to be bound by these Terms and Conditions.
18. A selection of entries may be broadcast or used on-line throughout the competition. A selection of entrants may also be interviewed by the BBC and these interviews may also be broadcast or used on-line. This will not be a part of, or have any influence on, the judging process.
19. Entries will be judged on the following criteria:
Technical ability displayed:
a. Intonation
b. Rhythm
c. Timing
d. Ornamentation
Performance skills:
a. Connection with the audience
b. Choice of repertoire
c. Balance of programme
d. Pace
e. Appropriate length of performance
20. Entries will be judged through the following process:
Round One
A panel of judges will review all entries and select a shortlist of 12 entrants to take part in the semi-finals, based on the criteria set out above.
Semi-finals
The 12 shortlisted entrants will be contacted by Friday 21st August 2015. If a shortlisted entrant cannot be contacted after reasonable attempts have been made to do so, the organisers reserve the right to offer the place in the semi-final to the next best entrant.
Semi-finals will take place across the weekend 3/4th October 2015 in Wiston, South Lanarkshire. The residential semi-final weekend will include workshops and advice on working in the traditional music business. The organisers will provide accommodation at Wiston Lodge for each semi-finalist as well as reasonable travel costs.
All semi-finalists will be asked to perform in front of a panel of judges. The panel of judges will select the 6 finalists based on the criteria set out above. Semi-finalists will be informed of the judges decision by Friday 9th October 2015.
The Final
The 6 finalists will then be invited to perform at the final which will be held in Glasgow on Sunday 31st January 2016 as part of Celtic Connections Festival.
The organisers will provide accommodation and rail travel for each finalist (and one parent or guardian if the finalist is under 18).
The final will be broadcast live on BBC Radio Scotland and each finalist will be asked to perform in front of a panel of judges. The panel of judges will select one winner based on the criteria set out above.
21. The prize will consist of:
• A recording session with BBC Scotland in Glasgow (the winner will be asked to enter into a standard agreement with the BBC before the recording session takes place);
• An opportunity performance at the Scots Trad Music Awards;
• One year's membership of Musicians Union.
All finalists will receive one year's membership of the TMSA and the opportunity to take part in the annual TMSA Young Trad Tour (subject to any necessary contracts being entered into with the relevant parties).
22. The prize is as stated and cannot be deferred or transferred. There will be no cash alternatives.
23. The names of each entrant whose entry is broadcast or used on-line will be made public. Entrants must agree to take part in any post-competition publicity if required.
24. The organisers' decision is final and no correspondence will be entered into.
25. The organisers reserve the right to disqualify any entry which breaches any of these Terms and Conditions or to withhold or withdraw a prize if in its opinion entries do not reach the required standard.
26. The organisers reserve the right to amend these Terms and Conditions or cancel this competition at any stage, if deemed necessary in its opinion, and if circumstances arise outside its control. In this event, a notice will be posted on the BBC Radio Scotland website.
27. The BBC and Hand up for Trad, their sub-contractors, subsidiaries and/or agencies cannot accept any responsibility whatsoever for any technical failure or malfunction or any other problem with any server, Internet access, system, the post or otherwise which may result in any entry being lost or not properly registered or recorded. Proof of sending is not proof of receipt.
28. These Terms and Conditions are governed by the laws of Scotland.