Main content
Christmas: When people return to their childhood bedrooms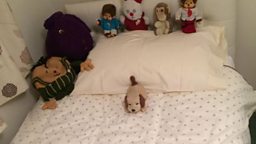 When writer Rhodri Marsden returned to his parents for Christmas a few years ago, little did he know that one social post would spawn an annual social media tradition that chimes with many...adults sleeping back in their childhood home - often in bedrooms still resplendent with their books, toys and duvets from decades ago.
"I was stuck in my sister's old room because my room is now turned into an office because it has a printer in it, and I just took a photograph of the quite austere scene in front of me," Rhodri says.
He posted the photo on Twitter: "it seemed to act as a catalyst for people to send me all these pictures, and for every year since they've been sent in."
"It's almost an exercise in low-level humiliation for the poor kids who are now having to sleep under childhood duvets aged 35," he says.
Over the years Rhodri says a number of categories have emerged from the photos people send...
There are always "airbeds slung in horribly cold utility rooms..."
So what does this say about the British?
Rhodri, author of 'A Very British Christmas' says the popularity of the thread is a reflection of the strange way the British celebrate Christmas.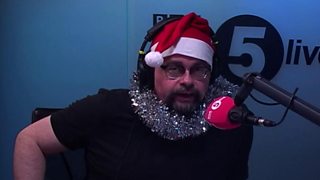 "The British go for Christmas in a big way, we outspend everyone else, but what's weird is we're not very good at hospitality."
It's "get in the utility room with you and I'll see you in the morning."
Hear Rhodri's interview in full
Writer and musician Rhodri Marsden discusses his new book 'A Very British Christmas'.