Main content
Sheer Bean-ius! Nine reasons we love Rowan Atkinson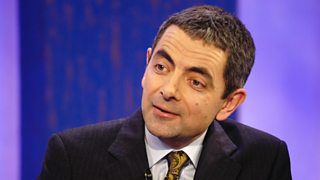 Rejoice! The mighty Rowan Atkinson is returning to the radio! He stars in the new comedy God's Work – playing a vicar subjected to the scrutiny of crack investigative reporter Lucy Cooper.
And this welcome return to the airwaves gives us the perfect excuse to look back on Rowan's life and career and highlight just a few of his successful outings and examine his extraordinary talents.
All photos © BBC
1. He kicked things off at Radio 3
He may now be known as a massive, franchise-straddling, money-spinning, global comedy juggernaut, but Rowan had slightly more humble, if highly prestigious, beginnings.
One of the first showcases for his unique comic talents was over on BBC Radio 3 during one of their occasional forays into humour. In 1979, he starred in and co-wrote (with frequent collaborator and fellow comedy titan Richard Curtis) The Atkinson People – where he played a different, fairly bizarre, character each week. The series was produced by another future co-star: Griff Rhys-Jones.
2. He's a team player
Although Rowan frequently goes it alone and spearheads projects like Mr Bean and Johnny English, he appears to be just as comfortable in an ensemble. He first reached the public's consciousness as arguably the breakout star in the boundary-pushing satirical sketch show Not The Nine O'Clock News, alongside Mel Smith, Griff Rhys-Jones and Pamela Stephenson where, even when he was swaddled in a slightly shonky monkey costume in the famous Gerald the Gorilla sketch, he was still instantly recognisable.
And when he was sharing the screen with Rik Mayall during his extraordinary turn as Flasheart in Blackadder, he just sat back and let Rik do his stuff.
3. He looks good in a uniform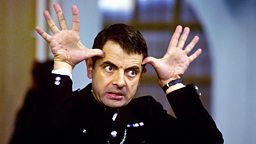 God's Work isn't the first time Rowan has shimmied into a dog collar and imitated a vicar. During his early stage appearances (as witnessed on his Live in Belfast album) Rowan portrayed a rather sardonic man of the cloth rather unconventionally officiating a wedding. And later, of course, there was his scene stealing turn as the bumbling Father Gerald in Four Weddings and a Funeral.
But it's not just the liturgical vestments that suit Mr. Atkinson. He also looked quite sharp as Inspector Raymond Fowler in Ben Elton's The Thin Blue Line – playing the dogged, if somewhat old-fashioned, police officer attempting to keep Britain's streets safe.
4. He's a sitcom icon
With Blackadder, Rowan has pulled off something quite unique. He's inhabited an iconic and beloved sitcom character who has spanned multiple time periods with different casts each time. While Blackadder is always somewhat egotistical, sneaky, rude, ruthless and mendacious in every incarnation of the show, the character is never quite the same. It's never just Atkinson in a different wig. His various Blackadders always appear perfect for the epoch they're occupying – which is a testament to his comic craft. And it's no surprise that Blackadder was voted the third most popular sitcom character of all time (right behind Basil Fawlty and Homer Simpson).
5. He's a slapstick master
Few contemporary comedic actors possess the skills and presence of the classic silent movie stars such as Buster Keaton or Harold Lloyd – but Rowan undoubtedly does. Keeping the audience's attention and making them laugh – without saying a single word is an endeavour that few would dare embark upon. But with Mr. Bean, he displayed the slapstick skill and clowning chops comparable to any great from the past. Such is the popularity of the bumbling Mr Bean that he has, to date, spawned, as well as the titular TV series, an animated show and two feature films based on his antics.
6. He's not just a pretty (and rubbery) face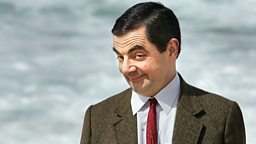 Despite this evident skill at clowning and physical buffoonery, Rowan couples this with his brilliant use of language and singular take on articulation in many of his successful comic roles. This over-emphasis on certain syllables (think of the way he pronounces "Bob" in Blackadder) is, in part, down to a stutter that still affects him to this day. This deliberate focus on certain parts of words helps him to speak his lines without interruption but also provides him with this unique, amusing, verbalisation.
If you have ever witnessed his "school register" sketch where he slowly reads out an increasingly bizarre list of surnames (such as "Ditt", "Elsworth-Beast Major", "Haemoglobin", "Undermanager" and finishing with "Zob") you'll be acutely aware of this.
7. He's a global megastar
One fortunate side-effect of Mr. Bean's silent antics is that it can be appreciated globally without the need for dubbing or subtitles. This has led to its enormous worldwide success, with the television series sold to nearly 250 foreign territories and garnering a slew of international awards.
And the two spin-off films, due to their international appeal, has made almost half a billion dollars in box-office takings. This global success has continued with the Johnny English series of films, with Rowan playing a Beanish secret agent in the James Bond mould. Inspired by a character he portrayed in a series of bank commercials from the 1990s, this modern day Clouseau has taken over $400 million at cinemas worldwide.
8. He won an Oscar (sort of)...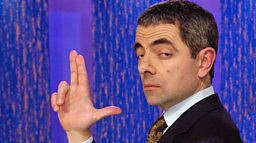 Though Mr Bean and Johnny English have yet to receive anything in the way of Academy Award recognition, Rowan has tasted some Oscar glory. In 1988 he starred in The Appointments of Dennis Jennings, a short film made by American comedy legend Steven Wright. Rowan plays Steven's uninterested, mocking psychiatrist who plays a dear price for his medical negligence. It won the Best Short Film Oscar though it's not known if this experience inspired Rowan's sketch entitled "The Bad Loser" in which a disgruntled actor accepts an award on behalf of a more successful colleague.
9. He's rubbed shoulders with the best
As well as portraying a spoofish version of 007, Rowan has actually appeared alongside the real thing, playing the rather oafish Nigel Small-Fawcett in 1983's Never Say Never Again with Sean Connery (plus wig) reprising the role of Bond. He even refers to Bond as an "undercover Johnny" in one scene, which possibly inspired his later creation. But as well as Bond,
Rowan has also stepped into some more iconic shoes, briefly becoming The Doctor in the 1999 special Doctor Who: The Curse of Fatal Death. As this was made for Comic Relief's Red Nose Day, the chances are that Rowan probably won't be back as a Timelord in the near future. Which is a shame.
Investigative journalist Lucy Cooper follows three vicars over the course of a year, on a mission to find out what keeps them working for the man upstairs.

Comedy on Radio 4
Brighten your week with the latest BBC Radio 4 comedy, introduced by Darren Harriott.

It's good, bad, ugly – and very very funny. Changing the way we see heroes and villains in history.