Main content
Radio 3 – it's not what you think it is
It's Radio 3's 70th birthday today so we've been looking at what the station got up to in the past.
Happy Birthday Radio 3!
The first words ever spoken were instructions on how to listen to the radio - "This is the BBC Third Programme. How to listen. Including how not to, how you ought to, and how you won't."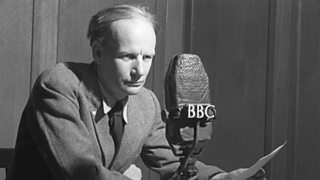 Those were the first words ever uttered. It was all tongue in cheek – the station's way of showing that, despite its intellectual aspirations, it was still capable of sending itself up.
People complained when Radio 3's first classical programme started
In 1964 the Music Programme began a daytime show for "the general listener". A number of composers, musicians and producers were horrified. After all, the Third Programme was meant to be different, eclectic and unpredictable. It certainly wasn't supposed to provide mere background noise like other, more "populist" stations.
In the 1960s Radio 3 invented a composer
In June 1961, listeners were treated to two broadcasts of a new work by the Polish composer Piotr Zak. Listeners didn't get it and the critics hated it. It turned out the piece and its composer had been entirely made up by a member of BBC staff and a visiting concert pianist "to get people thinking".
The pair had recorded themselves "banging about at random" using percussion instruments, ashtrays and anything else that came to hand.
Excuse the old bod. Don't mind, do you?

Hilda Tablet
The first full-frontal nudity on British radio happened on Radio 3
It happened in 1954. Here's the transcript from Henry Reed's The Private Life of Hilda Tablet:
HILDA: Come in, Bertie. Excuse the old bod. Don't mind, do you? … Do sit down. No, not on that, unless, of course, you prefer it. There's a stool just there.
(Splashing)
REEVE: G-good morning, Hilda.
Radio 3 broadcast the news in French, peut-être
There's a longstanding rumour in BBC circles that back in the day, the Third Programme would sometimes read the news in French to keep listeners on their toes. Sadly, though, we can't find the evidence to back this up because news bulletins weren't archived in the same way as other programmes.
Throughout Radio 3's 70th anniversary celebrations, cultural historian David Hendy resurfaces archive recordings that reveal the most influential moments in the station's history. Listen out for the Power of 3 segment, weekdays on Essential Classics and In Tune, and on Breakfast at weekends.