Main content
Is this the future of housing?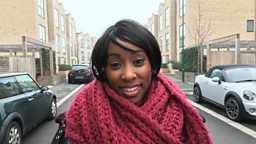 I'm Scarlette Douglas. You probably know me best as a presenter on A Place in the Sun but I'm also a property developer.
Like everyone, I'm becoming more conscious about the environment so I'm really interested in learning how to make homes more planet-friendly.
According to the Committee on Climate Change, 40% of UK carbon emissions - which are harmful to the environment - come from households.

So how can we carry on heating our homes, cooking dinner and using all our other household appliances without damaging the planet?
I went to Nottingham for a special report for BBC Radio 5 Live's Cool Planet series.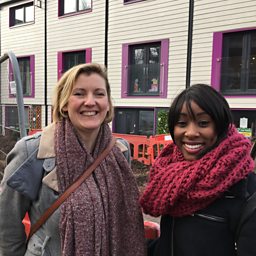 (Emily Braham with Scarlette Douglas)
Near the city centre, a row of colourful terraced houses covered in white cladding and with windows surrounded in pink and purple frames look more like pretty beach houses than your average home.
The 10 properties were the first in the country to be extensively retrofitted with a range of innovative energy saving and energy generation measures.
The groundbreaking approach comes from a Dutch concept called Energiesprong.
Emily Braham is head of sustainability at Nottingham City Homes: "The existing house has basically had a tea cosy – a jacket - fitted around it.
"So it's got new walls, it's got new foundations which are insulated and then it's got solar panels on the roof so it can generate as much renewable energy as the householder needs in a year."
As it was a pilot project, the initial costs were high - £85,000 for each retrofit – but it's hoped those figures will go down as more businesses invest in the technology.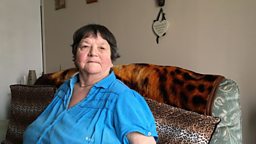 (Pat lives in one of the homes and says she's noticed a difference)
One of the residents, Pat, invited me in for a tour of her home. She said her energy bills had almost halved since the work had been carried out, and it feels much warmer in the house:
"Before, the house was always cold.
"There was no warm air anywhere. You'd have your radiators on but you couldn't really feel it. It just sort of went out the door.
"If my husband was alive today, he would love it here."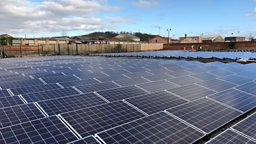 It's not just the social housing market in Nottingham which is being innovative. A five-minute cab ride away I found a new development of 120 private homes, where an alternative green project is being trialled.
Trent Basin has all you'd expect from a modern development. Well-insulated homes and solar panels on the buildings.
What makes it different is that it also houses a solar panel farm and Europe's largest community energy battery.
Renewable energy is created by the solar panels, stored in the battery then either used by residents or sold back to the National Grid, reducing the energy bills for everyone that lives there.
Professor Mark Gillot from the University of Nottingham's Department of Architecture, is researching the success of the community energy scheme: "It's an R&D project. Not everything's going to work.
"What we want to do is take all the best bits and to create a blueprint for further developments and hopefully see this happening elsewhere."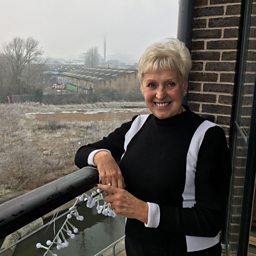 (Ruth lives in one of the new flats)
The homes, which range in price from around £250,000 to £500,000, are also fitted with technology enabling people to adjust their heating settings and find out how much energy they've used that day via their phones and smart speakers.
Ruth was one of the first people to move into the development 18 months ago. She bought the flat because of the river view but has since come to love its green credentials.
"I knew nothing at all but I've learnt more and more," she told me. "Renewable energy is the only way forward if we're to save the planet and carry on living the way we do.
"It's nice to live here and be an example. I feel proud that I'm doing my bit."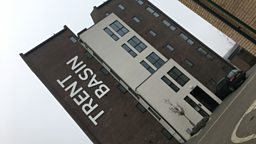 It was exciting to see what the future of housing could look like. We might not all be able to afford to retrofit our homes or build our own community batteries just yet, but as costs come down, it's something we may be able to consider.
In the meantime, we could all make more use of smart technology to keep an eye on how much energy we're consuming each day.
More from 5 Live's Cool Planet