Main content
Stravinsky: Myths & Rituals with the Philharmonia
The 20th Century's Towering Musical Genius
Igor Stravinsky was one of the most brilliant, innovative and influential composers of the 20th century. He was even part of music history's greatest musical audience riot, when the ballet, The Rite of Spring (see below), was premiered in Paris in 1913 – many consider it to be the most important musical work of the entire century. The Rite, and his other two great ballets, Petrouchka and The Firebird remain popular cornerstones of every major ballet company's repertoire.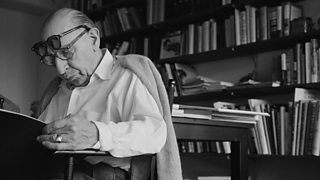 Stravinsky in his study. Photo: Ernst Haas/Getty Images
Stravinsky: Myths & Rituals is a five-concert series presented by the Philharmonia Orchestra, exploring many facets of Stravinsky's music. In a new broadcast partnership, BBC Radio 3 is relaying all five Stravinsky concerts.
An individual voice
Esa-Pekka Salonen, chief conductor and artistic adviser of the Philharmonia explains that 'Ritual is at the very heart of Stravinsky's craft. His creative life ranged from his origins as a late Russian Romantic composer to the near universal status that he achieved later in his life. His compositions would become a synthesis of almost every stylistic idea of the 20th century, and yet the identity and voice are always his, and only his.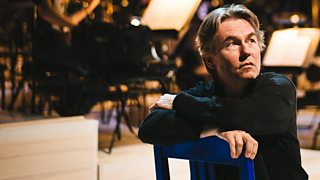 Esa-Pekka Salonen
'This series is very personal. I'm conducting music that I've performed over many years; music that I used to conduct a lot in my youth, and music that I've never conducted before. My hope is that that this project – which travels from the early Russian ballets to the late, great work of the American years – will illuminate Stravinsky's own journey, and bring this extraordinary, imaginative, powerful music newly to life.'
Click on the video below to watch Radio 3 presenter Sara Mohr-Pietsch introduce the series.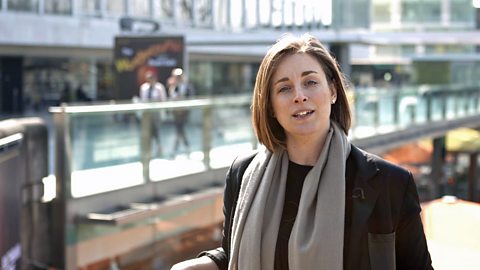 Meet Stravinsky in fantastic archive footage as Sara Mohr-Pietsch introduces his music.
Where did Stravinsky come from?
Members of Finnish National Ballet re-enact The Rite of Spring
Igor Stravinsky was brought up in St Petersburg, where his father was principal bass at the Mariinsky Opera. Having shown musical talent as a child, but little firm evidence that he might be the 20th century's paramount composer in the making, Stravinsky enrolled as a law student. In 1903, however, he also started taking private lessons with the great Russian composer Rimsky-Korsakov. Like Rimsky, Stravinsky was steeped in the folk traditions of Russian music – these sources would soon make themselves felt in Stravinsky's music. But the outcome was an early orchestral style displaying, in Scherzo fantastique and Fireworks (both 1908), a shimmering virtuosity that attracted the interest of Sergei Diaghilev, impresario of the Ballets Russes.
This series is very personal...

Esa-Pekka Salonen
Needing a new work for his company's 1910 Paris season, late in 1909 Diaghilev approached an apprehensive Stravinsky, who nevertheless managed to meet the deadline. The Firebird's premiere brought the young composer instant fame. Petrushka (1911) then announced fully the crisp rhythms, pungent harmonies and ultra-vivid orchestral colours of his mature style.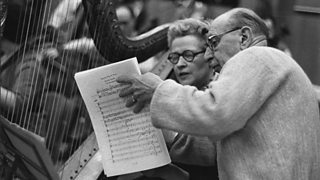 Stravinsky with BBC SO harpist Sidonie Goossens.
Marooned in Switzerland during the First World War, Stravinsky concentrated on works for smaller forces – notably the music-theatre pieces Renard (1916) and The Soldier's Tale (1918) and the sung ballet Les noces (1914–17, orch. 1923). After the Russian Revolution, Stravinsky based himself in France. Pulcinella (1920), another ballet with voices written for Diaghilev's company, drew deftly on Neapolitan keyboard music attributed to Pergolesi. The ensuing period of Stravinsky's neo-Classical engagement with the music of the past, was in its own way as exploratory as what had come before. Major works included Oedipus rex (1927), the Symphony of Psalms (1930) and Perséphone (1934), a fusion of melodrama, ballet and cantata.
Stravinsky in America
After his daughter, wife and mother had all died within a few months of one another, Stravinsky moved to America in 1939, settling in Hollywood with Vera Sudeikina, the Russian painter with whom he had led a double life for many years (they married in 1940). A full-length opera, The Rake's Progress, was completed in 1951. Closer-than-before encounters with the serial works of Schoenberg and Webern – at the behest of Stravinsky's young musical assistant, Robert Craft – then brought a temporary creative crisis, followed by a superb sequence of Webern-influenced late works which seemed at the time to contradict Stravinsky's earlier style: they include Canticum sacrum (1955), Agon (1953–7), Threni (1958) and Abraham and Isaac (1963).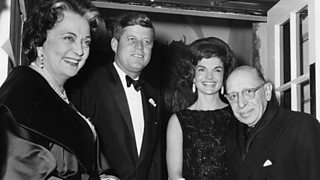 Vera (l) and Igor Stravinsky (r) with President John F Kennedy and his wife Jackie Kennedy, photographed in Washington on 23 January 1962. (Keystone/Getty)
Profile © Malcolm Hayes/BBC
Watch the Philharmonia's 35-minute film documentary, Stravinsky's Journeys
Explore Stravinsky's life and music with the Philharmonia in words, pictures and videos

Listen to programmes examining the life and works of Igor Stravinsky.

Everyone simply 'knows' that there was a riot at the 1913 Paris premiere of The Rite of Spring. But is it possible to separate fact from fiction?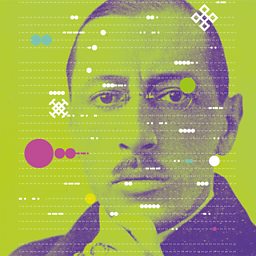 About the Philharmonia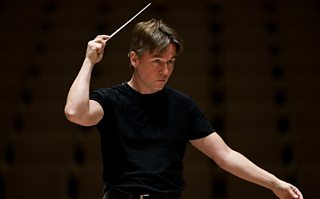 Current music director Esa-Pekka Salonen
The Philharmonia Orchestra was founded in 1945 by EMI classical music producer Walter Legge. During its first seven decades the orchestra collaborated with most of the great classical artists of the 20th century, including the conductors Wilhelm Furtwängler, Richard Strauss, Arturo Toscanini, Guido Cantelli, Herbert von Karajan and Carlo Giulini. Otto Klemperer was the first of many outstanding principal conductors, and other great names have included Lorin Maazel (associate principal conductor), Sir Charles Mackerras (principal guest conductor), Riccardo Muti (principal conductor and music director), Kurt Sanderling (conductor emeritus) and Giuseppe Sinopoli (music director). As well as Esa-Pekka Salonen, current titled conductors are Christoph von Dohnányi (honorary conductor for life) and Vladimir Ashkenazy (conductor laureate).
Top Ten Pieces by Stravinsky
Dumbarton Oaks
Ebony Concerto
Les Noces
The Firebird
Petrouchka
The Rite of Spring
Pulcinella Suite
Symphony in Three Movements
The Soldier's Tale
Symphony of Psalms
Your BBC guides to Stravinsky's music