Main content
Who'd have thought it? Surprising facts about our favourite foods
We love bread, chocolate and dairy products so much that Britain is home to some seriously impressive production lines! But how do your kitchen essentials make it to the shops (and consquently, the cupboard)? Try our snackable facts and satisfy your hunger for culinary knowledge!
Bread
Scale of Production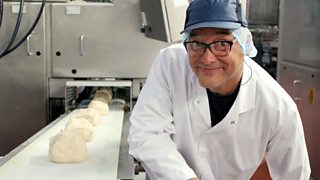 Gregg anticipates the smell of freshly baked bread!
As a nation we munch our way through 12 million loaves every day.
We also love our muffins – we get through over 146 million every year.
Every year over 2 million hectares of wheat are grown in the UK – in a land area the size of Wales
Yeast replicates itself by doubling every three hours, which means that in just four days, a yeast factory can turn 0.1 grams of yeast into 30,000 kgs – enough to ultimately bake 1.2 million loaves of bread.
Allied Bakeries in West Bromwich produce up to a million bakery items every day.
Who'd have thought it?
The secret to the perfect slice of bread - that can be buttered without ripping - is a process developed in the 1960s called four piecing: a dough ball is cut into four and turned through 90 degrees before it's dropped into the baking tin. Most bakeries use this process to improve the structure and texture of their loaves.
Surprising facts
24 million slices of bread are thrown away every day, which means that for every three loaves you buy, you may as well throw one straight in the bin.
16% of all the bread we throw away is entire loaves; that's over 90 million pounds worth a year, totally wasted.
In Victorian times, loaves were often adulterated to bulk them out, with suspect ingredients such as ash, sand, chalk, plaster of Paris, alum and sawdust. Housewives had to become amateur chemists in order to test the bread and keep their families safe.
Chocolate
Scale of Production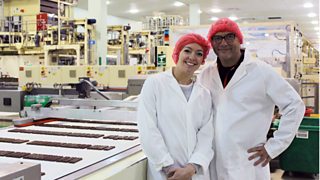 Cherry and Gregg somehow manage not to taste the chocolate!
Around 70,000 tonnes of cocoa beans arrive into the UK every year, the majority into the Port of Liverpool.
The Nestlé factory in York produces 1900 Kit Kats every minute.
Thornton's, the largest British owned chocolate manufacturer in Britain, produces nine million Easter eggs every year.
Who'd have thought it?
Most of our biggest selling chocolate brands in the UK today can be traced back to a single decade over 80 years ago. Dairy Milk, Mars, Kit Kat, Aero, Maltesers – they all burst onto the scene in 1930s Britain during what has been called the 'Chocolate Wars'.
Surprising facts
Workers in the bean factory often find coins, string, even dead snakes in the bean shipments from Africa.
As a nation we have a preference for British chocolate which is largely down to what we ate as kids.
The biggest selling American chocolate has a distinctive flavour and taste because, during manufacturing, the milk crumb is manipulated to create butyric acid, which is a component of vomit and what gives it the cheesy, sour taste to the British palate.
Milk
Scale of Production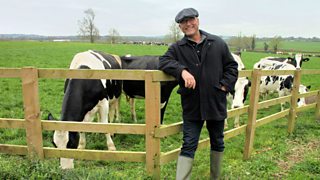 Gregg hangs out with some friendly dairy cows
As a nation we consume over 20 million litres of milk every day and factories across the country process milk from nearly 2 million cows.
Arla Ayslesbury is one of the biggest fresh milk dairies in the world – they process 650 million litres a year. About 1.5 million litres pass through the dairy every day. That's enough to fill two jumbo jets!
Each of the Arla Ayslesbury factory's milk fillers runs at 17,000 bottles an hour, which is the same as 4.7 a second.
One of the largest cheese factories in the UK is located in Devon's Taw Valley and makes 100 million blocks of cheese a year.
Who'd have thought it?
The first stage of processing milk is to spin off almost all of the fat content, leaving skimmed milk. The fat is then added back in to create full fat and semi-skimmed milk.
Surprising facts
Most adults on earth can't drink milk. Scientists think the reason most Europeans can drink milk is because of a random genetic mutation that first occurred in Hungary thousands of years ago.
Between 1850 and 1960 around 800 thousand people died from bovine tuberculosis as a result of contaminated milk.
It wasn't until the 1960s that it became the norm to pasteurize milk in the UK, and even to this day it's not compulsory in England and Wales.
Cheesemakers use 'good bacteria' to determine the characteritics and flavour of a particular cheese.