Main content
10 things we learnt from Nigel Owens' Desert Island Discs
Widely regarded as one of the finest and fairest rugby union referees in the sport, Nigel Owens has had an undeniable impact on the game. He was one of the first three Welsh Rugby Union professional referees and has officiated some the most high-profile and high-pressure tournaments including the 2015 World Cup Final. In a courageous move, he came out as gay in 2007, one of the first sports professionals to do so. Here's what we learnt from his forthright, illuminating and very emotional Desert Island Discs.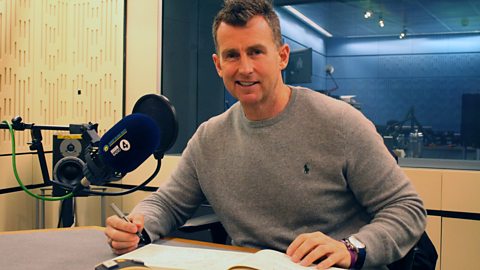 Nigel Owens on officiating his first senior club game.
The secret of effective refereeing
Having empathy for the players and what they're trying to achieve underpins Nigel's officiating technique, as well as establishing boundaries of what's acceptable early on. "Knowing when to blow the whistle is the easy job of refereeing. The secret is knowing when not to blow it."
How his career (badly) kicked off
Playing rugby at school, his team hadn't won a game all year, and needed to kick a conversion for victory. It was Nigel's moment of glory. But it didn't go to plan. The ball "went closer to the corner flag than it did to the uprights. I was a laughing stock in the school." His coach suggested, rather forcefully, that it might make more sense for him to oversee the games rather than play in them.
Unexpected sources
To oversee the rugby battlefield successfully, Nigel draws on experiences from all aspects of his life. "I was on stage at 14 years of age doing stand-up comedy in my local working men's club because the live entertainment hadn't turned up." This nerve helped him on the pitch when he had to send giants like Fabien Pelous to the sin bin.
Brief encounters
But it's not all down to life experience. He also has a few superstitions he relies on, including a playlist he listens to before every match and a pair of (slightly distressed) Superman boxer shorts. "I managed to get them to the World Cup. They were past their best. They had a hole in a very awkward place. If I ever fell over on the field it would have been very embarrassing."
Family ties
Family means a massive amount to Nigel and he emotionally recounts how, as a baby, he was placed in the arms of his grandfather who was very ill in hospital and not expected to recover. But he did survive and years later saved Nigel's life when a horse reared-up and nearly crushed him. "As I was falling my grandfather dropped his stick and pulled me out of the way just in time."
Identity crisis
Around the age of 19, Nigel realised he was "different". "I had never known or seen or met a gay person in real life… I was becoming somebody that I knew nothing about and somebody I didn't want to be." He was so desperate to avoid facing up to his sexuality that he visited his local doctor and requested to be chemically castrated.
Dark times
Struggling to come to terms with his sexuality, Nigel started to comfort eat, grew obese, then became bulimic and, while attempting to get into shape, succumbed to steroid addiction. He grew so desperate that he attempted suicide. "The shotgun was on my chest, underneath my chin, ready to pull the trigger." He was discovered just in time and he realised he had to accept who he was or he wouldn't survive. "Refereeing the World Cup final between Australia and New Zealand in front of 85,000 people and millions at home scrutinising every single decision you make under a huge amount of pressure, that was nothing compared to the challenge of accepting who I was - accepting who I was changed my life."
Fighting back
A tragedy in his life helped Nigel overcome a long-lasting and insidious disease. "The bulimia only finished not that long ago. My mum sat me and my dad down and told us she had cancer and she was dying. I was thinking, 'Here I am healthy but still making myself ill when my mum and millions across the world are fighting every day just for an extra few hours with their loved ones.' That's when the bulimia stopped."
The things that matter
Despite his tremendous success on the field, the struggles he faced before reaching the top of his profession have put things firmly in perspective for Nigel. "I don't think refereeing the World Cup final could ever be the most precious moment in my life because there are the times I've spent with some of the most wonderful people in the world: my mum, my dad and other people as well. That would be more precious to me than refereeing any World Cup."
No trouble brewing
On his desert island, Nigel decided to take an endless supply of Welsh teabags with him for comfort and sustenance. "There's something about a cup of tea that cures so many ills."