Main content
About Britain in a Day
The definitive self-portrait of Britain today
The archive is available at www.youtube.com/britaininaday.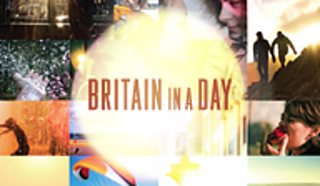 Britain in a Day is an extraordinary project to create the definitive self-portrait of Britain in the Twenty-first century, filmed by you, inspired by Life in a Day.
On Saturday 12th November, film director and producer Ridley Scott and director Morgan Matthews invited everyone in UK to capture part of their day and to upload it to YouTube.
The volume of submissions from you was overwhelming and showed how passionate the UK is about celebrating and sharing their experiences for the project. The resulting film and online archive gallery is a powerful and moving snapshot of the UK today.
The archive has been launched with the full length clips used in the film. Over the next few months, we'll start to update the archive with the films that didn't make the final cut, but are still powerful documents of life in the UK. By November 2012, most of the thousands of films submitted to Britain in a Day will be gathered in one place, giving everyone the chance to search through them for their favourite subjects and to create their own picture of modern Britain.
You can follow Britain in a Day on Twitter @britaininaday and use the #britaininaday to share your experiences with others. You can also join the Britain in a Day Facebook page.