Main content
6 things we learnt about Daniel Kaluuya on the 1Xtra Breakfast Show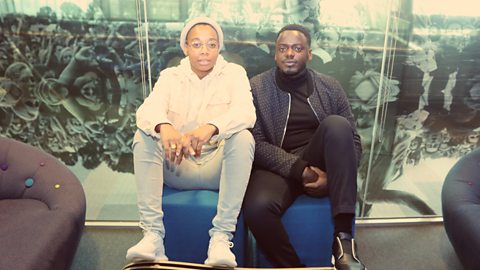 Dotty and Daniel discuss the themes and messages of Black Panther.
The deep, funny and talented Daniel Kaluuya came in for an incredible chat on the 1Xtra Breakfast Show with Dotty, talking about his new role in the massively hyped new Marvel movie Black Panther.
The Oscar-nominated star of Get Out, as well as TV shows like Skins and Black Mirror, had a lot of interesting and important stuff to say. Read on to find out more...
1. His experiences on the Black Panther set were life-changing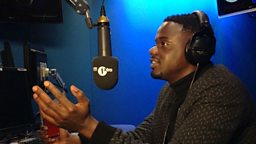 While movies with a majority black cast are still thin on the ground in Hollywood, Black Panther will be THE first black superhero film. Being on the set of director Ryan Coogler's movie, with a cast including Chadwick Boseman, Lupita Nyong'o and Letitia Wright, was a big experience for Daniel.
"You'd walk around and it was just life changing," he said. "I didn't know you could do it like this. I didn't know you was allowed to do it like this. I feel like I belong."
2. He needs you to have the full popcorn and big screen experience
Daniel urges everyone to support the film by seeing it in cinemas, and not just because such a monumental piece of work will reward the full big screen experience. Such a game–changing movie deserves public support.
"If you complain a lot about visibility and representation you have to pay, you have to support it when we do it," he said. "You have to support whatever you want to see. We've been given support and we need the support back. Everyone's given their heart and soul to this film."
3. He worked hard on perfecting an African style accent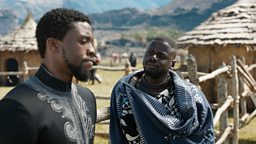 Black Panther is set in the fictional African nation Wakanda, so many British and American members of the cast had to perfect an accent for the film.
British star Daniel took his accent training very seriously, with impressive results.
"I'd stay in the accent on set, just do it for hours and hours and drill it every morning and before bed," he said. "And also we had each other's backs. I just said, 'If I'm whack, you just tell me!' Also, Africa's going to watch it! That gave us incentive to work even harder."
4. He thinks the timing for Black Panther is ideal
While Black Panther has been a key player in the Marvel Universe since 1966, this is the first time the character has had his own solo film. For Daniel, the timing is perfect.
"It's supposed to happen," he said, "Because, look at the cast. Ryan Coogler made this when he was 30 years old. Kendrick Lamar is on the soundtrack. Yeah it could have happened before, but I'm just happy that it's happened, and in the right way. And everyone cares. We all gave our blood, sweat and tears. We gave everything."
5. He has some great advice for other actors
Daniel is one of many British actors to have made it over in Hollywood - but he hasn't said goodbye to the UK, by any means.
"I think white British actors go over too," he said. "If you're ambitious, you're going to grow. You get to a point in England where you just need to spread your wings a bit. It doesn't mean you're not going to work in England. If a play comes up in England, I'll do that. It's all about making sure that you're hitting all markets. It's important, especially from the manor, that people know that you can do anything."
6. He's pretty chill about his Oscar nomination
At the age of just 28, Daniel has been nominated for his first Oscar for his starring role in Get Out. Nevertheless, he's characteristically relaxed about whether or not he wins - and he's able to see the big picture.
"It's an indie horror film," he said. "If it was a biopic I might be like, ah, yes, this could be in this realm... But this is just a ride that keeps on going. The way I approached it is to say, let's just see what happens next, and I'm going to keep going with that. Not expecting anything."
Has he prepared a speech, just in case?
"NO! Coz it's February. That would be weird if I was in the bathroom and that, with the shampoo. You can't, you've just got to be natural. After the Oscars, life happens still, it's not the end. I've got a career to ride."