Main content
Digital Match: Dynamic Inventor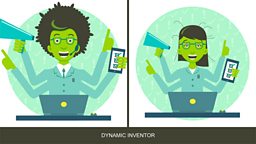 Powers
You're independent, enthusiastic and cackle in the face of stress. You're the opposite of a barometer—you don't feel the pressure.
Like a climber atop Everest, you're a high achiever. But you don't mind breaking rules to get to the top. A climber who takes the lift.
Prescription
You'd take to project management, cyber security and business analysis like a crispy duck to pancakes.
Pay
Starting salaries for business analyst roles average £26,000 and by the time you are 30 you could be in a senior role earning over £71,000.
Start your journey to a dream digital job today
The history of cryptogrpahy and how humans have protected their secret messages - and how it applies to cyber security.

The basics of social media and using different platforms to communicate your message.

Play a sim game to see how technology can be used to solve real-world business, environmental and logistical problems.

Get creative with programming and digital technology, or explore the world of animation and filmmaking.

The strategies, skills, and mindset needed to protect yourself, your computer, and your privacy.

Making the best use of the cloud and access across different network devices.

Online courses and resources for web design and creating your first web page.
The BBC is not responsible for the content of external Internet sites.