Main content
What I wish I'd said to my friends with mental health issues
Hussain Manawer is a poet and musician who has struggled with his mental health in the past. On BBC Radio 5 Live he asked: 'How can I help a friend who's struggling with their mental health?'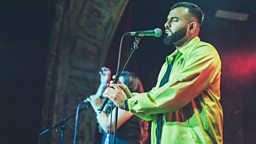 (Photo: Laura B at Illustrious Music)
Having undergone my own mental health battles for a number of years now, a lot of people in society automatically assume you're able to spot signs and symptoms in other people that you're close to.
This is not necessarily the case. I have friends and family members in my life that know me very well, they know when my mask is on, when my wall is up and when my emotions are guarded.
I don't like to say it, but sometimes I am not that great at noticing these warning signs in others. Even though we spend a huge amount of time together, sometimes that can be the exact space that they use to install emotional distance within our relationships, without realising.
I found that because I spoke quite openly about my depression on an ongoing basis, I took up a lot of time in a lot of the friendships I am in, quite simply 'making everything about me.' Even now in this article I feel like I am doing that, but there is a point.
If you are anything like me, and you are the loud mouthed one in your friendship group who feels the need to express yourself at every God-given moment, sometimes you need to take a step back and realise that every single person in your life is going through something you know nothing about (at one stage anyway).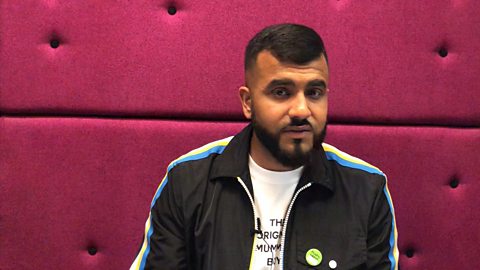 Hussain Manawer performs a poem about what he wishes he'd said to his friend.
And again if you are like me, you can't throw the toys out of the pram and say 'well why didn't they tell me?' It's deeper than that.
You have to remind yourself of what it was first like for you going through the early days of your mental health struggle, now imagine putting that in words, then finding the right time to tell the same person who has been there for you.
So here is a list of things I wish I would have said to my close friends and family who have struggled with their mental health issues away from me, because I took up a lot of the time they gave me, out of love.

BE ACTIVE
I undertook a variety of exercises for my mental health, including trampolining, running, badminton, swimming and writing. I found ways of expressing my emotions and feelings through a variety of things that really helped me gain a clear sense and understanding of everything, and made my moments that day a lot lighter. But I had to take me there, I had to want to do it.
BE KIND TO YOURSELF
I went to the local park every day, I relived the memories on the benches and jumping over fences from when we were young. I treated myself better, and this didn't mean through retail therapy or showcasing 'my life is great' to the world on social media. Instead I simply did the things that made me happy. I put them in my calendar/schedule and nothing was going to disturb me from doing them. Along with the park came reading (recommending Dan Brown's Angels and Demons if you haven't read it) and a lot of self-help books came to life too.
IF YOU CAN MAKE IT OUT OF BED IN THE MORNING YOU HAVE DONE VERY WELL ALREADY
Depression can hit us at every hour of the day, sometimes the hardest challenge we face can be getting up from our beds. The safe haven, the one place in the world nothing can disturb you and the one thing that can literally hold all your worries beneath it. However I think when going through episodes, making it out of bed should feel like an award winning moment, because it means you are doing this for yourself. You have the energy, drive and force within you to make something positive happen.
PLEASE DON'T GO THROUGH ANYTHING ALONE
You might feel that by telling me, you've become a burden. No matter how many times I tell you otherwise you won't listen, just please never go through anything alone. Reach out, do this via text, social media, or face to face. Let someone know how you are feeling. You are worthy and you are loved. And listen, if you don't get the response you were looking for, don't let this put you off from telling anyone else. People aren't experts and humans don't always know what to say!

I know my friends have seen me in some traumatic times, and I am learning to give myself the time and space to rebuild my internal emotional structure so that in the future I can be there for all of you, the same way you were for me.
Love Hussain x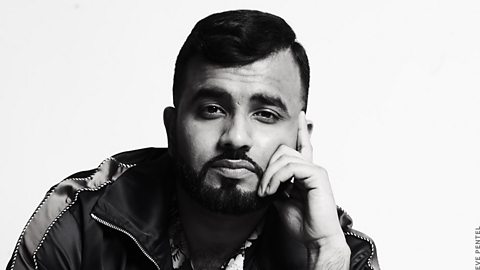 Hussain Manawer joins Nihal Arthanayake to talk about how best to support a friend.