Main content
10 dance moves you need to become a successful DJ
10. The 'Overhead clap'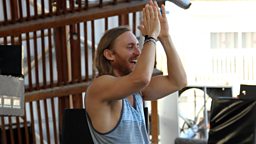 As demonstrated by David Guetta at Radio 1 in Ibiza, this is incredibly effective when seeking engagement from your crowd, especially when you pull it off in time with the music.
9. The 'Crowd wave'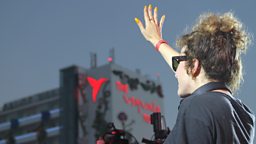 A popular move among DJs, including Annie Mac as shown in this example from #R1Ibiza. A real personal touch that brings your audience closer and causes excitable reactions such as "OMG ANNIE JUST WAVED AT ME".
8. The 'Bass is coming in, lean back and scrunch your nose'
Perfect when conveying your appreciation to the massive bass drop you just played in. Basically, the physical version of shouting "OOOF" as spotted watching B.Traits at Cream, Privilege.
7. The 'Spider-Man'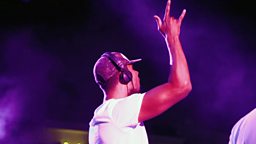 The DJ's equivilent to the rock hand. Nothing quite says I'm a superstar DJ / superhero like 'the Spider-man'.
6. The 'Over here! I'm DJing!'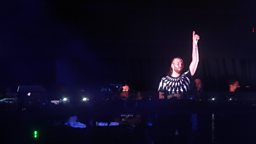 Use when you're unsure whether the crowd know who is DJing, helpful if too many people gather behind the DJ booth and try to steal your glory. Of course, with this example from Steve Angello during Radio 1 in Ibiza, he could also be informing the crowd we are live on Radio 1, which we appreciate greatly, ta Steve!
5. The 'Sing like you mean it'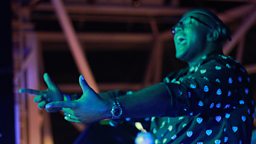 Nothing tells the crowd you're passionate about the music you're playing like the 'Sing like you mean it'. A regular feature in Mistajam's sets, it often prompts a crowd singalong which as we all know, is a real feel good moment. Just make sure you know the words..
4. The 'Raise the roof'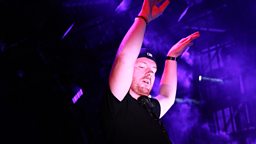 Probably the first move you should learn as an aspiring DJ. Perfected here by Eric Prydz on Friday night of Radio 1 in Ibiza. Its benefits? It prompts the crowd to mimic the move which is a great view from the DJ box, it accompanies the drop perfectly and well, it gives your hands a little rest from the mixer.
3. The 'Reach out and touch me'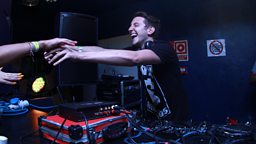 The 'reach out and touch me' is perfect for the smaller club setting as it allows the DJ to really bond with the audience. Especially when coupled with the 'I'm having a lovely time' grin as demonstrated by Toddla T. Not advisable if you're unable to reach your arms across the decks as an accidental button press could occur.
2. The 'I don't like dancing so I'll get my MC to do it'
If you're not a fan of accompanying your set with DJ moves, never fear! As Wilkinson proved in Ibiza there is a simple alternative - get an MC to stand on your DJ desk and bust out the crowd exciting moves for you! Simple!
1. The 'Bounce'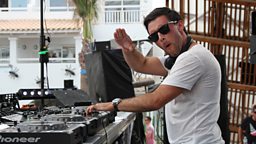 Very popular with Danny Howard, as seen in this photo from Radio 1 in Ibiza, the 'bounce' is effective when your crowd is looking a tad static. Especially if you accompany it with a jump up and down (although be careful on less sturdy platforms). If you really want to excel at this move, pair it with a stare down the nearest camera lense as Danny does here. 10 points for multi-tasking abilities are available.