Main content
The Playstation 5 finally has a price and release date - and Harry Potter's coming along for the ride
By Jordan Middler // BBC The Social contributor // 16 September 2020
The PlayStation 5 finally has a price and a release date.
If you're interested in paying the equivalent of a small second hand car for something that looks like a router from the year 2030 then you can on November 19th and it'll cost £359.99 for the digital edition and £449.99 for the one with the bit for the discs.
At the information-packed launch event tonight they unveiled Final Fantasy XVI (as a Playstation exclusive) and the long rumoured Harry Potter game from Avalanche Software. If like me you've been imagining a Harry Potter RPG, then you're probably already brewing your butterbeer.
But what will you be playing on your shiny new box? Well, confirmed launch titles include Astro's Playroom and Marvel's Spider-Man: Miles Morales which is a sequel-ish to the fantastic Marvel's Spider-Man. While apparently it's not a full sequel, it's set in the same city as the original, it's apparently still a full experience.
The first game sold roughly 1 billion copies and started an IP fight between Sony and Disney over the web-head which led to him to only appearing in the PlayStation version of Marvel's Avengers.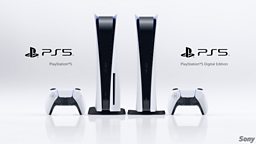 If you're looking for other games to play on your PS5, plenty of other third party titles have been confirmed.
But if you own a game on PS4 will you get it for free on PS5? Well yes... but also no.

Jordan
Football themed sticker collecting game FIFA 21 will be available at launch with new bells and whistles not found on the disgusting, worthless PS4 version. At least for those of us serfs who can't get a PS5 launch, progress on FIFA and several other titles will be cross-generation.
But if you own a game on PS4 will you get it for free on PS5? Well yes... but also no. The backwards compatibility situation for PS5 is still a confusing mess, and the duel entitlement system is so unclear that consumers are definitely going to get burned.
For certain titles such as FIFA and Madden, your PS4 copy will upgrade to a PS5 copy for free. However, for games such as Control or Call of Duty Black Ops: Cold War, you'll have to splurge for the more expensive version if you want your PS4 copy to upgrade. If you just want to play the PS4 version of Call of Duty on a PS5 you can, but it won't have any of the PS5 features. I'm sure that clears things up for you.
How does it compare to its rival/brother/secret lover the Xbox Series X? Only time will tell once more details on that have been released.
Whether you like your next generation games Spider-flavoured or in a stunning 8k resolution you'll never manage to play them in, the next generation of consoles is here and is sure to bring with it new iconic characters, legendary games and more evidence in the case for video games being the only form of art in the world that matters.