Main content
Fresh Dressed: How hip hop fashion conquered the world
27 October 2015
New documentary feature Fresh Dressed tells the fascinating story of hip hop fashion, and its journey from the streets of New York to catwalks and shopping malls across the globe. Director Sacha Jenkins has drawn from a wealth of archive footage and conducted in-depth interviews with industry heavyweights including Kanye West, Pharrell Williams, Sean 'Puffy' Combs, Nas, Pusha T, A$AP Rocky and many more. Here, he tells ALASTAIR McKAY how gang culture and graffiti gave birth to the biggest urban style movement of all time.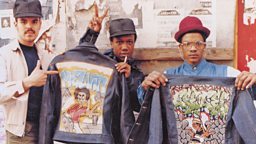 Denim jackets customised with graffiti-style designs (courtesy CNN Films/Mass Appeal)
In the hip hop community, the word "fresh" has a particular meaning. "It largely comes from the notion of having something brand new," says Sacha Jenkins, director of the documentary Fresh Dressed.
"Something fresh out of the box. In the inner city, it means you have money and you can afford to buy these products. Beyond that, looking clean and crisp is a big part of the urban aesthetic. Something looking brand new says a lot about who you are."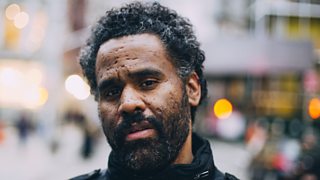 Director Sacha Jenkins
Looking clean and crisp is a big part of the urban aesthetic
Jenkins' film is ambitious in its scope, tracing the sartorial pride of the hip hop crowd back to slavery, though the musical revolutions of the 1970s and 1980s, up to the present, where artists such as Kanye West and Pharrell Williams work alongside the high end fashion lines that urban street style used to cannibalise.
"A big part of hip hop is respect," says Jenkins. "If that respect is first spread amongst the apostles of hip hop, you're starting out saying, 'I just want my respect here'. And once you conquer that, you're really thinking, 'How do I get respect in society?'
"That's what hip hop is - it's a reaction to what was laid in front of you by society and how you were able to counteract it and re-imagine it. Those who had success said, 'OK. I have respect here, now I want respect in the high fashion world, in the money world'.
"At the same time, poor people wear things that are supposed to represent how much money they have, who they are, or what their personal value is - and that's where it becomes complicated."
Aesthetically, Jenkins suggests that the roots of hip hop style can be found in the gang culture of early 1970s New York, when the clothes were inspired by Peter Fonda's motorcycle parable Easy Rider.
"Look at the South Bronx back then, it looked like World War Two Poland. It was bombed out. There wasn't a lot of opportunity - so who were their influences going to be? Martin Luther King had been assassinated. Bobby Kennedy had been assassinated. Malcolm X had been assassinated. Kennedy, the President, had been assassinated.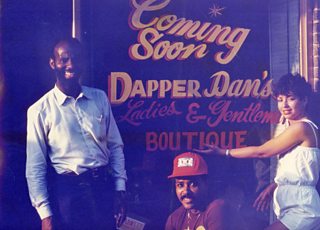 Dapper Dan and friends outside his Harlem store (from Dapper Dan's Boutique)
The South Bronx back then looked like World War Two Poland
"You're coming off really intense happenings in American history and at the same time black and brown people are finding this new sense of identity.
"So who are the heroes going to be? You're gonna look to these guys who are like Vikings, who are like rebels, who are against authority. They wanted their gangs to be fierce and feared."
As well as gang colours, the first wave of hip hop artists took their cues from graffiti culture, adding an element of peacockery, and individual inspiration.
The Cold Crush Brothers were suited and booted, but B-Boy style evolved into creative dressing down, with Melle Mel in cycling shorts and leathers, and Run DMC dressing like their fans, in a style they celebrated on their 1986 hit My Adidas.
In Harlem, boutique owner Dapper Dan was playfully corrupting designer labels, though his creativity was born of necessity: none of the brands would supply him.
"They were like, 'Who is this black guy in Harlem with a shop?" says Jenkins. "So he said, 'Well I know people in my community want to wear these garments. They like this stuff. Let me do what we what do in hip hop - remix it, sample it'."
Dapper Dan's creative attitude towards copyright went largely unnoticed, until his boutique was the scene of a 5am brawl between boxers Mike Tyson and Mitch Green in August 1988 (Tyson had come to pick up a white leather jacket with the slogan "Don't Believe The Hype" etched on the back).
"That created headlines," says Jenkins, "and created this awareness of what was going on in the shop. Dan says that's when people started watching him."
Ultimately, the fashion conglomerates worked out how to assimilate the creative energy of hip hop, though that doesn't mean current artists aren't still battling for respect within the industry.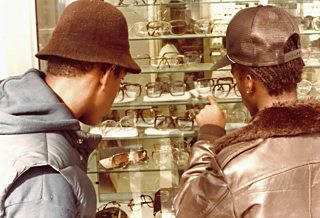 Checking out designer glasses (courtesy of CNN Films/Mass Appeal)
Ralph Lauren is hip hop: it's reimagining yourself and creating this larger-than-life persona
Kanye West suggests of his own fashion work that it must aspire to match the impact of Ralph Lauren, who may seem an unlikely role model. But, says Jenkins: "Ralph Lauren is from the Bronx. His real name is Ralph Lifshitz - a nice Jewish boy from humble means.
"The gang in my film, the Lo-Lifes, all they do is wear Polo and steal Polo. Those guys are from a part of Brooklyn that's really tough, but they know Ralph's biography. They respect him. He came from nothing, he wasn't rich.
"This affluent lifestyle, the horses and polo, that wasn't his family history - he created that.
"That's why Ralph is hip hop: it's reimagining yourself and creating this larger-than-life persona. People buy into it. Then it becomes a reality."
West also suggests that "the class conversation is bigger than the race conversation".
"That's true for Kanye, maybe," says Jenkins. "Kanye's on a certain level financially and socially, and in terms of where he can go and what he can do.
"But not all folks of colour in America have the privilege of saying it's just about class. Kanye can say whatever he likes for himself, and I think that's true for him. But I don't know that to be true for the majority."
Fresh Dressed is in selected UK cinemas and available on-demand from 30 October.
Watch clips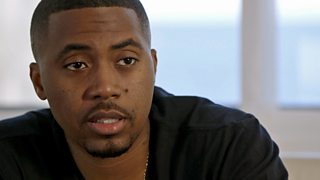 Rapper Nas discusses the impact of Shirt Kings and Dapper Dan in this clip from Fresh Dressed (courtesy of CNN Films/Mass Appeal).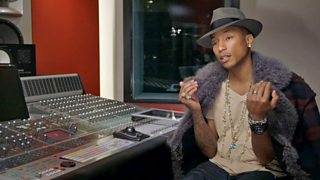 Pharrell Williams explains how the internet age has transformed hip hop fashion, in this clip from Fresh Dressed (courtesy of CNN Films/Mass Appeal).
From the BBC archive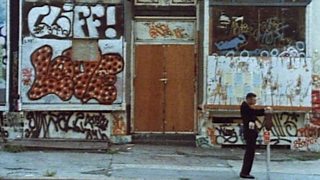 Arena's Beat This! A Hip Hop History, originally broadcast in July 1984, took an in-depth look at New York's hip hop scene. This clip looks at the battles between graffiti artists and police in the Bronx.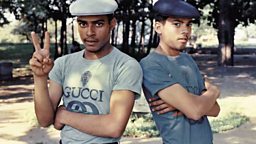 New York hip hop fans wearing Gucci (courtesy of CNN Films/Mass Appeal)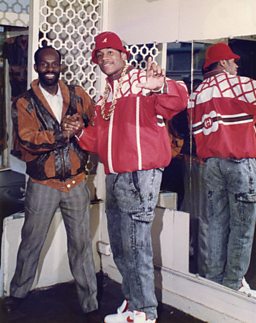 Dapper Dan with LL Cool J (from Dapper Dan's Boutique)
More style and music features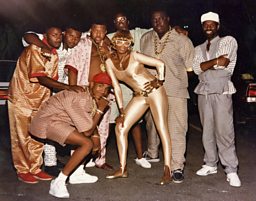 Dapper Dan with the Connecticut Crew (from Dapper Dan's Boutique)