Main content
Ricotta Stuffed Aubergines in Tomato Sauce
Ricotta-stuffed aubergines in tomato sauce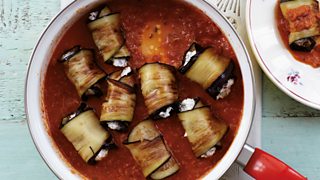 Anjum Anand cooks the perfect vegetarian dish for Diwali
This dish is so absolutely delicious that once you make it, you feel like doing it again the following night. The combination of the meaty aubergines with the creamy ricotta is a real taste sensation.
Subscribe to our free Cook the Perfect podcast
This recipe is taken from 'Anjum Anand's Quick & Easy' book
INGREDIENTS:
Serves 3–4
3 tomatoes, quartered and deseeded
salt and freshly ground black pepper
2 aubergines, cut into 1cm slices lengthways (you need about 12 slices in all)
3 tbsp vegetable oil, plus more for the aubergines
3⁄4 tsp fennel seeds
1 largish onion, chopped
4 fat garlic cloves, grated
2 tsp tomato purée
1⁄2 fat red chilli, finely sliced
1 tsp ground coriander
caster sugar, if needed
225g ricotta cheese or paneer
1⁄2 small red onion, finely chopped
1 tbsp shredded mint leaves
METHOD:
Blend the tomatoes with a little water until smooth (you can use a hand-held blender). Lightly season the aubergines.
Heat the oil in a large non-stick saucepan. Add the fennel seeds and cook for 10 seconds, then tip in the onion and cook until lightly browned on the edges. Add the garlic and cook for a minute or so. Add the blended tomatoes, tomato purée, chilli, coriander and seasoning.
Cook over a moderate heat, stirring occasionally, until it thickens into a paste and releases oil, around 15 minutes.Taste, it should taste harmonious.
Pour in 150ml of water, bring to the boil and simmer gently for four to five minutes, or until it all comes together into a creamy sauce. Taste and adjust the seasoning, adding a pinch of sugar if the tomatoes are too acidic.
Meanwhile, cook the aubergines: heat a good drizzle of oil in a large frying pan and add as many slices of aubergines as will fit in the pan; cook over a medium heat until golden brown on the underside, then turn over and repeat, it takes around three minutes a side. Remove and place on a plate. Repeat with the remaining slices until they are all cooked.
(You can also cook these in an oven preheated to 180°C/350°F/gas mark 4; brush liberally with oil, season and place on a baking tray, then cook for 15–20 minutes, or until completely soft.)
Mix together the ricotta, red onion and mint and season. Place 1 tbsp of this on to each slice of aubergine, about 2.5cm from the edge.Carefully roll them up into fat short logs, patting in any escaping ricotta.
Place the rolls seam-side down in the tomato sauce, spoon over some of the sauce and gently heat through for three or four minutes.
Serve hot with salad and naan or crusty bread or boiled basmati rice.
TIPS & TECHNIQUES
Add in a couple of handfuls of spinach for some healthy greens.
In the summer, use fresh tomatoes; in the winter, use a can.
If you prefer, you can use traditional Indian cheese called Paneer instead of the ricotta.
You can buy paneer from the shops but home made paneer has a much softer and crumblier texture.
Home Made Paneer:
Bring 2 litres of whole milk to a boil in a heavy-based pan, stirring and scraping often to make sure it does not scorch.
Boil for five minutes, then add the juice of 1 lemon (or 250g live yogurt). Stir while the mixture splits into curds and whey.
Line a sieve with a muslin cloth or clean tea towel, place in the sink and pour in the contents of the pan. Tie the cloth into a bag over the curds and hang it from the kitchen tap. Allow to drip for 20 minutes.
Now, still in its cloth bag, pat it out to a 2.5cm-thick disc and place on a board. Put the board in the kitchen sink and place a saucepan filled with water on top.
Leave to drain for one or two hours for firm paneer, less for a softer curd.
Store in water in the fridge and use up within two or three days.
Before cooking, soak in just-boiled water for 10 minutes to soften.
Makes 250g.
Related Links: