Main content
A cat's guide to breaking the Internet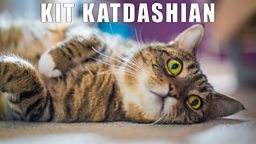 It was only a matter of time before cats took over the world. We just needed a vehicle, and we found it. Social media, babies. The British public alone share more than 3.8 million online photos and videos of cats every day. I've curated some clips for you below – some of these guys are now SO big you might have to put up with a bit of advertising…
Keyboard Cat
First off, one of the guys who broke the brand… Taught Kanye everything he knows.
Nyan Cat
Are you a small child or desperately bored? If so, this is the cat for you. It never EVER stops. Whatever you think of it, it's had 122 million views on YouTube. It's all about the clicks, chicks.
Maru
We've all had days where our booty just don't fit. Here's Maru to tell us how to work it. "Honey, If I sits, I fits."
Grumpy Cat
And if you've just been to see Dr. Plastique and can't quite manage a smile for medical reasons, that's just FINE. My boy Grumpy Cat's made a reported £64 million without ever cracking a grin.
Cat In A Shark Costume Chases A Duck While Riding A Roomba
Success on social is about seeing the magic in the everyday. You know, just basic stuff like this...
Cats Playing Patty Cake
Also, when you're being filmed all the time, you need the moves. Practise, practise, practise.
Henri
Of course it's really important not to neglect your intellectual side. I nurture mine with Henri Le Chat Noir for all my feline existential needs.
Lil BUB
Also bear in mind that a few friends with a high follower count doesn't hurt. Like maybe… Whoopi Goldberg and Michelle Obama. Y'know. Pizza buddies.
WHY MY CAT IS SAD
But even with nearly 300,000 followers, some of us are just… well… sad.
So me and my crew want to thank you. Truly. Thanks for the internet, humans. Just don't expect to get it back any time soon.
Cats on Radio 4
Susan Calman and her comedian pals find out why our feline overlords rule cyberspace.

Susan Calman explores an age where celebrity cats star in films, host talk shows and have lucrative book deals.

Comedian John Moloney has a stressed, self-harming cat. Called Edward.