Main content
Chicken Noodle Soup
Rachel Allen shows how to create a supremely easy chicken noodle soup put together taken from her book 'Easy Meals'.
Chicken Noodle Soup
The Thai flavours are wonderfully refreshing, while the rice noodles and slivers of cooked chicken make it quite sustaining too.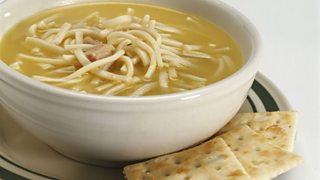 Subscribe to our podcast to be kept up to date with all cookery items.
Tips and techniques
Use glass noodles or egg noodles if you can't find rice noodles.
Slice the ginger but leave it unpeeled for a gentle flavour.
To make chicken stock, throw the carcass of a cooked or uncooked chicken into a saucepan with an onion or two, a carrot or two, the green part or a whole leek, a stick of celery, possibly some garlic, cover with cold water, add parsley, peppercorns, bring to the boil and then simmer gently for a couple of hours. Be sure to cover with cold water because, as the water comes up to the boil it draws all the flavour and goodness out of the chicken into the stock. Simmer for a couple of hours. If you don't have the ingredients for a stock, you can use a stock cube.
Uncooked chicken sliced very thinly only takes a couple of minutes to cook. You can use cooked leftover chicken, but you will get a better flavour with uncooked chicken. Don't use big chunks of chicken as they will take too long to cook.
Don't add any salt because the fish sauce is salty. If you don't like fish sauce you could add soy sauce instead.
If you don't have coriander, you can use mint or basil.
Do not cut the noodles if you are superstitious!
Instead of chicken you could use prawns or fillet of pork sliced very thinly.
Ingredients
100g (3½oz) medium rice noodles
800ml (1 pint 9fl oz) chicken stock
2 cloves of garlic, peeled and crushed or finely grated
4 x 2-3mm thick slices of unpeeled root ginger
300g (11oz) chicken breast or thigh meat, very thinly sliced
2-3 tbsp fish sauce (nam pla)
Juice of 1 lime or ½ lemon
4 spring onions, trimmed and sliced at an angle
4 tbsp roughly chopped coriander
Recipe Serves 4
Preparation time 7 minutes
Cooking time 5 minutes
Preparation method
Place the rice noodles in a bowl, cover with boiling water and allow to soak for 4-5 minutes or according to the instructions on the packet, until softened
While they are soaking, place the stock in a saucepan with the garlic and ginger. Bring to the boil, then add the chicken and cook for 2 minutes until the chicken is opaque. Add the fish sauce and lime juice to taste, then add in the spring onion and coriander.
Drain the noodles and divide between four warmed bowls, top with the soup and serve.
Alternatively for a five-minute prawn noodle soup: Make as above, substituting the chicken with the same weight of finely sliced raw peeled tiger prawns
Browse previous recipes
Seeking to create perfect pumpkin soup, cracking curry or unbeatable bread and butter pudding?
More Food on the BBC
Browse our selection of recipes from top chefs, cooks and food writers who have joined us on Woman's Hour.