Main content
Black Eyed Susans by Julia Heaberlin
About the Book
Seventeen-year-old Tessa, dubbed a "Black-Eyed Susan" by the media, became famous for being the only victim to survive the vicious attack of a serial killer. Her testimony helped put a dangerous criminal behind bars - or sho she thought.
Now, decades later, the case has been reopened and the black-eyed Susans planted outside Tessa's bedroom window seem to be a message from a killer who should be safely in prison.
Tessa agrees to help with the investigation, but she is haunted by fragmented memories of the night she was attacked and terrified for her own teenage daughter's safety. Can she unlock the truth about the killer before it's too late?
About the Author
Julia Heaberlin is an award-winning journalist who, before launching her career as an author, worked at several national newspapers. She has edited numerous real-life thriller stories, including a series on the perplexing and tragic murders of girls buried in the Mexican desert and another on domestic violence. She lives with her husband and son in Texas.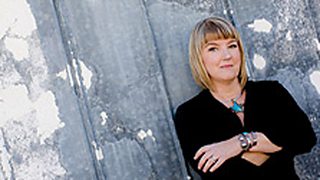 Q&A
When I write, I like to…
...curse and drink Dr Pepper.
One thing that people don't know about me is…
...my brother and I still talk to each other in this exaggerated Southern accent that we started as children. In email, all words are spelled to reflect our weird phonetics (although my brother and I do argue over spellings sometimes). It drives my autocorrect crazy.
The book that inspired me to write is…
...Rebecca by Daphne du Maurier. It was a long, hot Texas summer and I was a nerdy young girl unexpectedly swept into a gothic world. The book was like a little air-conditioner. I had goosebumps.
My specialty dish in the kitchen is…
...nothing fancy. A smorgasbord of Southern cooking. Pie, especially. I love pie. There isn't a bad pie on the planet.
My current view is of…
...my messy house. You don't want to know more.
One of my favourite authors is...
...John Irving because of the extraordinary way he puts sentences together and the creative risks he takes. He writes what he wants without regard for what the marketplace "wants." A Prayer for Owen Meany is one of my favorite books. And Irving works read out loud, which my husband sometimes does for me. He's an even bigger fan.
The thing I love most about words is…
...even just a few of them have the power to change everything ... your relationships, your mood, your mind, the world.