Main content
A satirist on trial – so what's new?
In the early 1800s, a satirical challenge to Royalty, Parliament and the Church went all the way to court. A new play by Nick Newman and Private Eye editor Ian Hislop – modern torch-bearers for free speech – is based on the public trials of William Hone; you can hear Trial by Laughter at 2.30pm on Saturday 27 February. But who was Hone, and what had he done?
In December 1817 the satirist and bookseller William Hone was subjected to three trials on three successive days. He was charged with seditious libel and blasphemy – Hone had dared to attack the Prince Regent and his ally, the Tory government, by parodying the Lord's Prayer and Ten Commandments – among other Biblical tracts. In fact, what was on trial was free speech and press freedom – and the cartoonist George Cruikshank was to prove vital to its defence.
I live on gin and water. My mouth lets the gin in, and my boots the water.

George Cruikshank
Born 12 years after Hone in 1792, Cruikshank was a friend and key collaborator of the older man, who often kept him alive with food and drink. And there was a lot of drink – as Cruikshank said, 'I live on gin and water. My mouth lets the gin in, and my boots the water.' Together, in the inns and coffee shops around Fleet Street, they formulated Hone's defence – based on historical precedent, and citing previous religious parodies in literary and cartoon form. Coming from a family of cartoonists, Cruikshank would have been an expert in the latter – his father and brother were noted caricaturists.
However, George was the most celebrated cartoonist of the day, penning scabrous and scatological attacks on the folly and vices of George, the Prince Regent, and his ministers. in a cartoon entitled 'Royal Hobby's [sic] or The Hertfordshire Cock Horse', he drew the future King's mistress Lady Hertford riding upon him as if he were a coach. He collaborated with Hone to depict George as a giant cannon (then called a bomb, pronounced 'bum'), with ministers and mistresses queuing up to kiss his 'bomb'.
He also attacked the suspension of Habeas Corpus (detention without trial), drawing the figure of Liberty herself being hung from a printing press.
But Cruikshank and Hone were more than just comic collaborators. Hone also sold Cruikshank's prints in his tiny Fleet Street shop, where vast crowds would gather to see the latest attacks on their leaders. It was hardly surprising that Hone's trials became the great cause célèbre of the day. A thousand spectators crammed into London's Guildhall to witness Hone defend himself, by reducing the court and jury to tears – of laughter. It was David versus Goliath as Hone faced the combined might of the Crown and Government, battling nobbled juries and an overtly biased judge. Cruikshank depicted Hone as the Gamecock of Guildhall, standing up to the turkeys of the law. And the battle for press freedom continues, as cartoonists around the world still carry the torch lit by George Cruikshank and William Hone.
The verdict of the trials can be heard in Trial by Laughter, BBC Radio 4, Saturday 27 February at 2.30pm.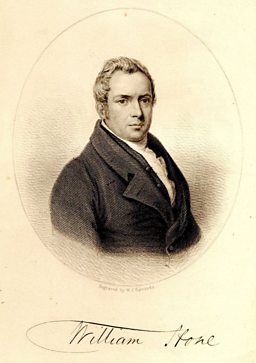 William Hone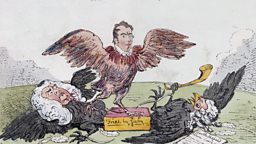 The 'Gamecock of Guildhall'