Main content
The cast of Grease: where are they now?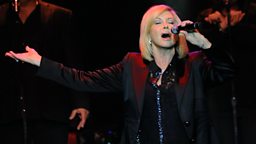 To celebrate Stockard Channing coming through the doors of Radio 2 this week to visit Simon Mayo we decided to don our jackets, brush off our jiving shoes and take a trip to Rydell High...
It's been a mind-blowing 39 years since Grease first hit our screens and gave us chills (multiplying, of course), but what have some of those famous faces been up to since?
One of the highest-grossing live action musicals of all time (it's banked a whopping £307,117,544 worldwide!), Grease catapulted its cast to fame and forever altered our attitude towards spandex catsuits.
From stars of the stage to reprising their roles for a live remake, here's what some of the 1978 alumni of Rydell High School have achieved since graduating...
Stockard Channing: Betty Rizzo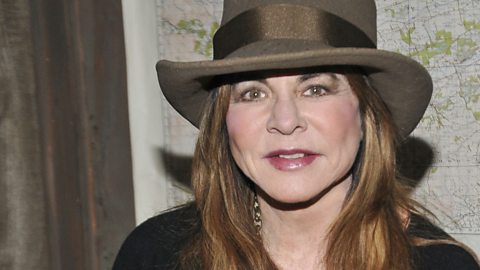 Stockard Channing talks about how to close to real life The West Wing actually was
She's been nominated for an Oscar (Best Actress in a Leading Role in Six Degrees of Separation), several Golden Globes and bagged herself an Emmy and Tony award. All things considered, Stockard Channing is definitely a success story.
After playing Rizzo in Grease, Channing played First Lady Abbey Bartlet in The West Wing for seven years, as well as racking up TV credits in Batman Beyond, Out Of Practice and, recently, The Good Wife.
But like that wasn't enough, Stockard is a regular in the Broadway scene, nabbing roles in It's Only A Play, Other Desert Cities and she's soon to hit the West End in Apologia.
Emmy and Tony-winning actress Stockard Channing, known for her starring roles in The West Wing and Grease, joins Simon to talk about treading the boards in 'Apologia' in London's West End.
Fun fact: Stockard Channing was 33 when she played 17 year-old Betty Rizzo.
Olivia Newton-John: Sandy Olsson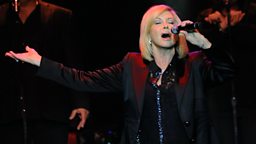 She was famously reluctant to take on the role of Sandy after being concerned that she was too old to play a high-schooler (she turned 29 while they were filming) but Olivia Newton-John's star well and truly rose after her portrayal of the good-girl-gone-bad.
Despite enjoying musical success prior to playing the Australian sweetheart, Olivia used her movie makeover to give her songs even more star power, swapping her sweetheart image for something a little saucier.
As well as scoring two UK No. 1's with Grease's 'You're The One That I Want' and 'Summer Nights', Olivia went on to win a Grammy Award for the music video to her top 10 single, Physical, and has been touring with her music ever since. She's also played 175 shows as part of her Las Vegas residency from 2014 to 2016.
On top of all of this, the four-time Grammy winner gave a first-hand account of her life and career in Olivia Newton-John: In Her Own Words on Radio 2.
Olivia Newton-John talks about being a cancer survivor and her book Livwise.
Fun fact: Sandy's spandex trousers - worn for the final carnival scenes - were 25 years old and actually belonged to Olivia Newton-John. She had to be sewn into them after the zipper broke!
John Travolta: Danny Zuko
Pulp Fiction, Bolt, Wild Hogs, Hairspray, From Paris With Love and Get Shorty: there's no denying that John Travolta's post-Grease cinematic career is extensive and impressive.
More recently you might have watched him play lawyer Robert Shapiro in the critically acclaimed The People vs. OJ Simpson: American Crime Story. And it doesn't look like the star has any plans to slow down soon, with three films already in the pipeline for this year and next.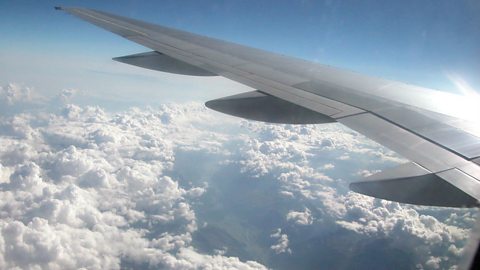 John Travolta chats to Steve and Tim about coming to London for An Audience with...
Fun fact: John Travolta persuaded the producers to let him sing 'Greased Lightning' - the tune was initially meant for Jeff Conaway who played Kenickie.
Didi Conn: Frenchy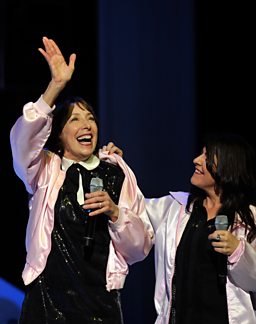 As you can see, Frenchy is still taking to the stage to bring joy to us all donning that Pink Ladies jacket.
Away from all things Rydell, Didi Conn has racked up a mighty 40 television and film credits, including The Fonz and the Happy Days Gang, Cagney & Lacey, Grease 2 (where she reprised her role as Frenchy), Transparent and she's even leant her memorable voice to The Wild Thornberrys.
The role of Frenchy was played by singer Carly Rae Jepsen in the live TV remake and Didi left a pretty special gift in Carly's dressing room in the form of the original Frenchy costume!
"I can't thank you enough for your generous spirit and inspiring talent. This locket/ original Frenchy shirt you left in my room had me crying those happy tears," Carly wrote on Instagram. Awh, you guys.
Fun fact: the dreamy 'Beauty School Dropout' staircase scene nearly didn't happen due to Frankie Avalon's fear of heights, so the crew lined the steps with mattresses. Frankie played Frenchy's guardian angel, Teen Angel.
Who can forget Barry Pearl's portrayal of the goofy Doody?! Along with John Travolta, Jeff Conaway and Jamie Donnelly, Barry played a part in the original Broadway production of Grease. While John Travolta originally played Doody (later upgrading for the Zuko star role), Barry originally played Sonny (the part Michael Tucci ended up nabbing in the original).
Role-swapping aside, Barry went on to feature in TV classics such as Murder She Wrote, Beverly Hills 90210, House, Criminal Minds and ER. His most recent appearance? Alongside Didi in Grease Live, of course! We can't get enough of their onscreen antics.
Fun fact: the T-Birds were originally known as the 'Burger Palace Boys' in the original Broadway production, but they got given a seemingly cool name for the movie.
Unlike the rest of his Rydell pals, Kelly Ward opted for life behind the camera after playing the curly-quiffed T-Bird, Putzie.
Speaking to Snakkle, the former actor dished on his decision to step away from the limelight: "I began to see an alarming decrease in the amount of jobs I was booking as an actor, and as the number of children was growing at home, I got a great opportunity to get a job at Hanna-Barbera. I used the leverage of [one of my] scripts to get an opportunity to voice-direct as well, because I thought it would be fun and I was interested in doing that. So I voice-directed that and did a couple other voice-directing"
He's since voice and dialogue directed some classic kids shows, including Mickey Mouse Clubhouse, Sabrina: Secrets of a Teenage Witch, Curious George and Scooby Doo.
And if you've ever wondered whether the old crew are still in contact, wonder no more. "The real source of joy for those of us who did it is the fact that we keep in relatively regular contact," Kelly told Snakkle. "It's an extended family. We give each other a lot of support."