Main content
What's really in cannabis-based health products?
In 2018, cannabis was legalised for the first time in the UK for certain medicinal purposes, and can now be prescribed for certain conditions by specialist doctors on a case by case basis.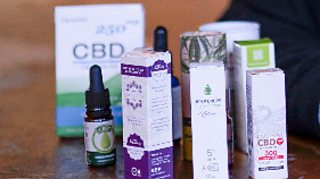 But there's another type of cannabis-based product that has been available legally on the High Street for years. Cannabis-based health products have recently exploded in popularity. It is now estimated that 250,000 people in Britain use them, attracted by claims that they can calm stress and anxiety, help you sleep, and may alleviate the symptoms of epilepsy, autism, and even cancer.
They are usually sold in liquid form, and the key ingredient is cannabidiol – better known as CBD. CBD is one of the main chemical components of cannabis, and has a long history of therapeutic uses. Crucially, it is not believed to damage the brain, encourage addiction, or cause a 'high' in users. These effects are associated with another component of the cannabis drug – tetrahydrocannabinol, or THC.
People buy CBD products to self-treat health problems; but these products are not licensed as medicines. In fact, they are classed as food products and are subject only to food safety legislation, so they don't undergo the same tests of safety, quality and efficacy that medicines do. So what are we actually buying?
Dr Arno Hazekamp, a Dutch expert on cannabis products, told our presenter Dr Javid Abdelmoneim; "We have done studies in other countries and they are not always what they seem – they don't have the amount of CBD that's claimed, no-one is checking what's actually in them."
We decided to see if this was also true of products on sale in the UK.
To do so, we selected twelve popular CBD oil products available over the counter and online, and sent them for testing to the ICCI - International Cannabis and Cannabinoids Institute - collaborating with the University of Chemistry and Technology in Prague in the Czech Republic. We asked Professor Jana Hajslova and her team to measure just how much CBD was in each product – and whether THC was present as well.
The results of our tests showed that three of the products contained less CBD than was indicated on the label. One, the Jacob Hooy CBD+ Hemp Oil that claimed to be 2.75% CBD, actually contained 1.7%. Another, the 5% Hemp Drops product from KØD, was found in our test to contain 2.9%. A third product, Celtic Wind CBD Multi-Complex Hemp Oil Concentrate, claimed on the bottle to contain 500 milligrams of CBD. The results for the particular sample we tested showed barely detectable amounts – 0.00075%.
Whilst it is almost impossible to exclude THC entirely from CBD products, the European Food Standards Agency (EFSA) does recommend a maximum daily dosage of THC of 70 microgrammes for the average adult. Two products – CannabiGold and Love CBD – significantly exceeded this in our tests.
One key issue is the lack of internationally recognised, standardised laboratory tests to determine these levels, so results can vary from lab to lab. This is something that Dr Arno Hazecamp has raised – he believes that governments should do more to standardise testing. This concern was also raised by the companies whose products we tested, all of which questioned our results and assured us that they take care to ensure their products contain appropriate levels of cannabis-derived compounds.
Links:
https://www.nhs.uk/conditions/medical-cannabis/
https://www.bbc.co.uk/news/health-44534861
https://www.independent.co.uk/life-style/health-and-families/cbd-cannabis-oil-what-is-it-beauty-products-lifestyle-uses-marijuana-a8588256.html
More detailed responses from the companies can be found here: