Main content
FanArt Exhibition
To celebrate the return of the fifth series of Peaky Blinders, we asked fans to create pieces of art inspired by the legendary Shelby family. Over a thousand submissions were made from talented artists from across the UK whose imaginations have been well and truly captured by the show. After much deliberation, a curated selection of 16 fan art commissions were selected and their artwork displayed across BBC digital, online, social platforms and in a nationwide poster campaign.
Scroll down to see each commissioned piece of artwork and read a few words from the artists.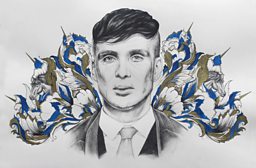 Jackdaw by Tahlia Preece
Pencil and Ink
"The abstract details were inspired by ornamental rococo architecture and decoration, appreciating "the abundance of curves, counter-curves, undulations and elements modelled on nature", what I associate with a regal style."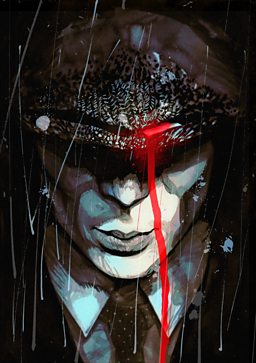 Violent Men are the Easiest to Deal With by Adam Martin
Ink with digital retouching
"No matter how brutal his actions become, he retains respect and honour even in the face of death. Tommy Shelby is neither black nor white and Cillian Murphy portrays that beautifully."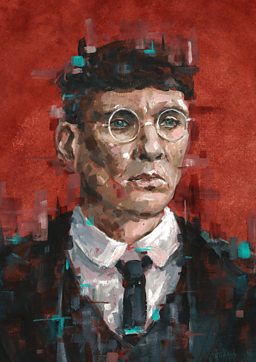 Troubled by Holly Reynolds
Acrylic paint and coloured pencil
"The complexity of his character and his mental state is what inspired me most to create my piece - I chose a deep red for the background as this is symbolic of many of the themes in the show, including passion, violence and the political themes being introduced."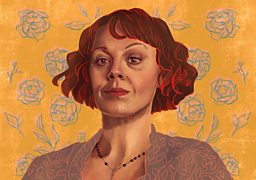 Peony Rose by Alice Matthews
Digital Painting
"Polly is a powerhouse of a woman, but her character is more than just being the matriarch of the family. I wanted to paint something that showed her strength and resolve. Complimenting her power with a soft palette and the delicate details of the Peony Rose to reflect the contradictions that exist within her."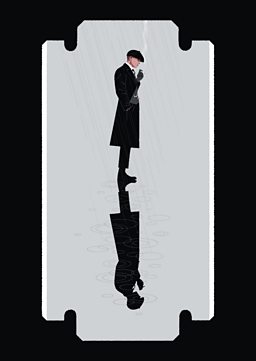 On a Razor's Edge by Matt Clough
Digital Illustration
"I wanted to create an image with duality, that would show both the gravity of the decisions Tommy Shelby has made, and the looming impact of the violent lifestyle he has lived in his pursuit of power."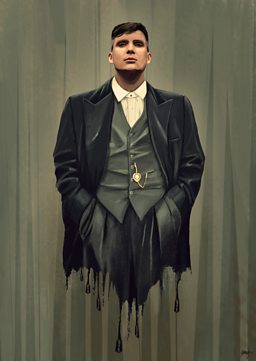 The Man I Am by James Mundy
Digital Painting
"I created a painting that was a bit dark but at the same time shows his pride and his willingness to overcome his past and try to move on."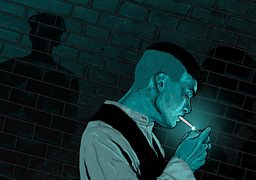 Friend or Foe? by Alex Coyle
Digital Illustration
"Tommy is my favourite character in the show. His complex character development throughout the show is very interesting, as he battles his own mental demons as well as other foes. The eerie shadow could be seen as a real foe, his past coming back to haunt him or his own mental demons lingering over him."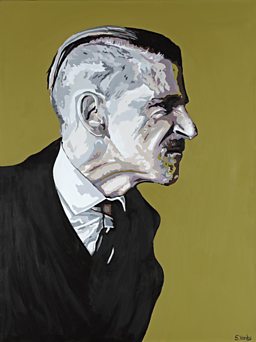 Arthur by Sue Verity
Acrylic on Canvas
"I find Arthur's character really intriguing, we all love him even though he is a bit unhinged with a fiery temper. I thought the image I painted captured that side of him really well."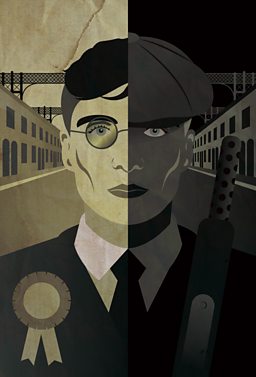 The Two Sides of Tommy Shelby by Graham Nash
Digital Illustration
"Tommy has two conflicting sides to his character and this was my main focus for the illustration. As a viewer you are rooting for Tommy, even though some of what he does is brutal. You also see the softer side of Tommy with his various love interests and passion for horses. He may be seen by some as an antihero, but for me he is the hero of the show."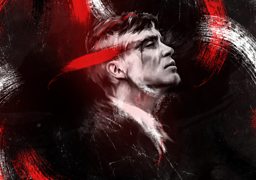 Tommy's Turmoil by Liam Proniewicz
Digital Painting
"The palette is intended to allude to the dangerous and chaotic nature of Tommy's work, while he himself remains calm and collected."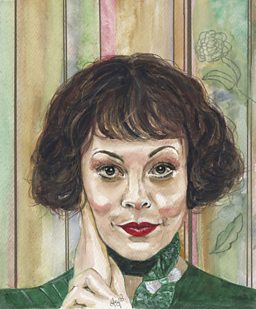 Polly Gray by Yvonne Bentley
Watercolour
"The female characters in the show are all strong, but Polly goes above and beyond for her family and is the backbone and conscience to Tommy. The way I chose to paint her hopefully brings this across. Classy but sassy!"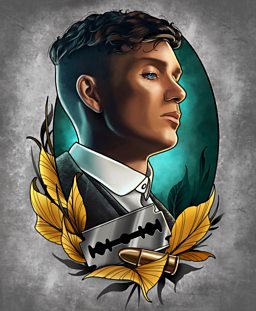 Already Broken by Sam Ding
Digital Illustration
"Tommy is always forced to make horrible decisions and pays the price big time for those decisions. I wanted my piece to look strong, but with that vulnerability to him."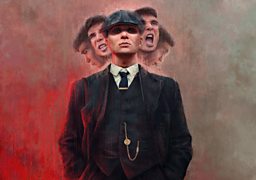 Cracks by Harry Ward
Digital Painting
"My main aim when creating this piece was to convey emotion and feeling. I drew inspiration from multiple exposure photography as a way to convey more than one emotion at the same time, as well as giving the effect of movement."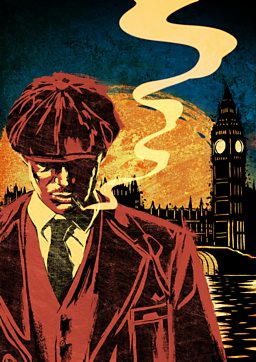 Sundown by Peter Carroll
Pencil and Ink with digital colouring
"I knew I wanted to create something emotional and powerful, whilst conveying the inner turmoil Tommy is struggling with. I felt it was important to design a piece that was bold yet simple, so I limited myself to 3 primary colours with strong black shapes and silhouettes."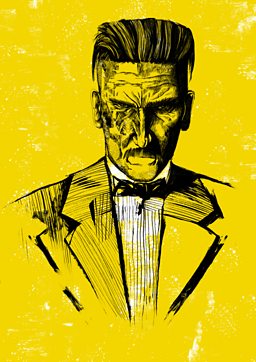 Arthur by Ben Wills
Digital Illustration
"Something about the gritty cinematography really resonates with me, along with the amazing characters and narrative we all love."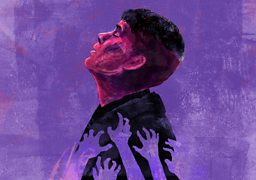 Heavy Lies the Crown by Luke Waller
Mono-print with digital retouching
"I chose the emotive pose and colour way to show the strength of Tommy's character. The hands hint at a creeping feeling of paranoia and anxiety as he attempts to keep his calm as things begin to crumble around him."
Finally, from the map below you can see that Peaky Blinders fandom isn't just a Birmingham affair – our selected 16 pieces of fanart came from all over the country. Flat caps off to everyone involved!