Main content
Jubilee fly-past finally takes to skies on Gloriana-ous day
12 October 2015
An 81-year-old retired tool maker with no formal art training has painted an impressive depiction of the Thames Diamond Jubilee Pageant, but with a much more sunny outlook.
More than one million rain-soaked people watched the Queen's 1,000-boat spectacle, led by the Royal barge Gloriana, weave its way along the Thames in 2012, but a planned fly-past was cancelled due to the appalling weather.
With a splash of artistic licence, Kenneth Small, from County Durham, has given the day clear skies and has included the airbourne tribute in his version of events. It's the second time Get Creative has made Kenneth our Everyday Artist, having already featured his life-size replica of a Canaletto earlier this year, dubbed his Kenni-letto, which he also proudly displayed on The One Show in May.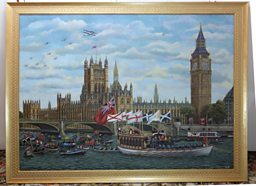 The Gloriana leads the way
Anyone watching the celebration of The Queen's reign, whether in person or from the comfort of their sofa, will remember that it rained for the entire day. The weather was so bad that a planned fly-past was cancelled.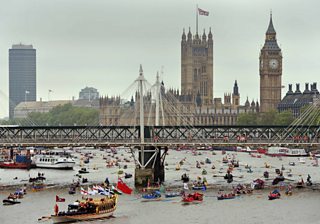 Gloriana sails under Jubilee Bridge
I've decided to step down in size so I can paint quicker
Using some artistic licence, Kenneth chose to paint the royal barge Gloriana passing by The Houses of Parliament, but this time with blue skies.
"This gave me the opportunity to depict the fly-past, of the Royal Navy Fairey Swordfish leading nine Royal Navy helicopters," Kenneth said.
Unlike the three years it took Kenneth to paint his 'Kenni-letto', this painting has taken him three months to complete and this is because the painting is considerably smaller than his previous work.
"I've decided to step down in size so I can paint quicker," he said about his 5ft x 4ft recreation.
But don't expect any more pageants or grand Ventian scenes, "I'm a bit sick of doing buildings now so want to do something different," he said.
"I've decided from now on to paint figurative canvases, about half the size of this one, where I can buy ready made frames. Up to now I have had to make my own frames for these large canvases, so it will save a bit of money, and I'll have more time painting instead."
Kenneth has already started on his next painting. He was inspired by a scene in the film Croupier, starring Clive Owen and Alex Kingston, in which a couple are drinking cocktails. "It's quite glamorous," he said, "very James Bond, in fact I'm thinking of changing the male character to be Daniel Craig."
"I have found that I like painting people in various scenarios, serious or funny, and I often see a scene in a film or video, and think 'that would make a good picture' so that's the way I am going to go."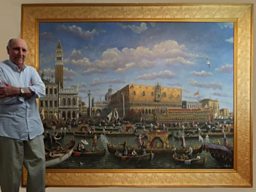 Kenneth Small with his Caniletto recreation
Meet the world-record holding crafters making a crochet Christmas project

One of a handful of aspiring artists whose painting was chosen for the Royal Academy's Summer Exhibition

A retired designer who painted a Canaletto-style painting, replacing the buildings with those of his home town

A jewellery designer who discovered a love for digital printing and uses it as a way to relax and to cure jet-lag

A dedicated mum and knitter who makes retro tank tops for her rugby- mad son and his friends to add a splash of style to the stands

A stitcher who joined a sewing group to meet like-minded people. She's made tea cosies and draught excluders as gifts and hopes to move to dressmaking

A stroke survivor who has used painting, music and writing to rehabilitate. He shared his first self-portrait using his affected hand with Get Creative

A keen cross stitcher and crafter who uses it as a way to relax and wind down after a day content producing for Get Creative