Main content
Seven of the most memorable moments from Greg James' global 'Up Yours, Corona!' mission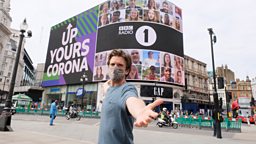 Radio 1's Greg James has completed his global mission to get one person from all 193 UN recognised countries to shout 'Up Yours, Corona!'.
If you're new to this ridiculous idea of getting everyone across the globe to tell corona to do one, here's how it all began...
Last Monday (July 20th), Esther let out her frustrations live on Radio 1 Breakfast with Greg James. She was totally over it, like everyone is. So she shouted, 'Up Yours, Corona!'.
It started to gain momentum, when spacecraft engineer Sian called in from Germany, and shouted 'Up Yours!' across Lake Constance.
This gave truck driver Steven an idea. He messaged in to say, "I think we should go a bit more international with it, and get listeners to ring in from around the world, we need a list, and we can tick them all off!"
And with that, a silly global mission was born.
Greg James said: "Obviously, we are well aware that this is an incredibly sad and difficult time for everyone, and it's been so stressful. Everyone's been affected in one way or another."
"As my nan used to say, 'if you don't laugh, you'll cry'. Sometimes the best way to get through a crisis is to laugh at things. That's what we're gonna try and do…"
"We're going to show coronavirus the disdain it's showing us. Let's unite the entire world in nonsense!"
We spoke to people from 193 countries in 7 days. All in a bid to get the world to shout 'Up Yours, Corona!'. Here's how it unfolded.
1 | The ingenious variations of 'Up Yours, Corona!'
The challenge was simple, tell Corona to do one, even better if you could do it in your native tongue, with a local twist on up yours.
Naturally, this led to some instant classics, and below are just six of our many favourites.
Katrina from Lativa gave us: "Ej dillēs Korona!"
which translates to: "Go to dill corona!"
Saana from Finland gave us: "Suksi kuuseen!"
which translates to: "Ski into a spruce!"
Will from Sweden gave us: "Ta dig i brasan corona!"
which translates to: "Get in the fire corona!" or "Get in the bronzer corona!"
Dzanin from Bosnia and Herzegovina gave us: "Sjasi Korono!"
which translates to: "Get back on your horse corona!"
Kris from Norway gave us: "Dra til helvete corona!"
which translates to: "Go to hell corona!"
(And yes, there is a place called hell in Norway, so it was more than appropriate.)
Yanji in China gave us: "快点消失新冠!"
which translates to: "Hurry up and disappear!"
2 | Life Hacks talking to callers in Syria, Yemen and Eritrea
Greg tasked Life Hacks with getting callers from Syria, Yemen and Eritrea.
He said: "It's about the stories we get from the locations more than anything. Yes, of course, it's a stupid thing to shout 'Up Yours, Corona!', but the fact is we are going to get 193 stories from all over the world of how this devastating virus has affected millions."
For the uninitiated, Radio 1's Life Hacks talks about what's going on in the world and gives listeners advice. Over the past few months, the show has focused on how coronavirus is affecting everyone emotionally and financially.
Syria has been in civil war for 9 years with devastating effects and implications, and Life Hacks presenters, Cel and Katie were joined by Maribelle from Aleppo.
She told them about the implications of war and the impact of coronavirus on the country: "It's been hard the past 10 years, but it's been even harder due to coronavirus, the country is not ready, it's a load we can barely handle."
"People are used to having bad times; it didn't affect them like it affected other countries, so coronavirus didn't scare them. We've lived through war and bombings, so people will tell you we've been through all of this, so what's a virus?"
Speaking personally she said, "It's a mix of feelings, you are shocked because you have never been through something like this. You are curious to know what's going to happen, no matter how dark it is."
You can listen to her talking to Cel and Katie below.
They also heard from Doctor Ammar in Yemen who has been volunteering in his community, and told Life Hacks about treating patients in their homes, who he said by other countries' standards would have been in intensive care on a ventilator.
3 | Scott Mills taking on the "King of Europe" role
When Greg set himself the challenge of completing Europe, Radio 1's very own 'king of Europe' Scott Mills was his go-to contact.
There were nine countries left to tick off, and with all his Eurovision connections, Scott was the perfect candidate for the job. He wasted no time in tracking down two performers in Moldova and Montenegro.
First up was Serj is from the Sunstroke Project who represented Moldova in the Eurovision Song Contest in 2010 and again in 2017. And then we heard from Slavko, who represented Montenegro in the Eurovision Song Contest 2017.
You can watch the Sunstroke Project in action with "Hey Mamma" below.
Third party videos may contain adverts.
4 | That niggling underlying sense of dread
Ever had one of those moments when it suddenly dawns on you just how much work you have to do, and just how little time you have? You solemnly vow never to end up in this situation again, until the next time, that is.
Five days into the challenge and that feeling had started to creep in as 111 of the 193 countries had been successfully ticked off, but 82 countries remained.
It's important to remember, if you ever find yourself in one of these situations, optimism is the only way forward, because quite frankly, you have nothing else.
Cue this beautiful exchange between Greg and Grimmy during his drive-time show on Monday.
Grimmy: "I was thinking 60% [of the challenge completed] sounds so encouraging, but then 82 countries to go. That's a lot of work!"
Greg: "We think 60% is good. That's why we were employed by Radio 1 to be optimistic. 60? That's amazing! That's basically 90."
5 | The 'Up Yours, Corona!' blimp that appeared in Cardiff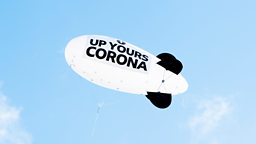 On the penultimate day of the challenge, Lottie Morley from BBC Wales was sent to Cardiff Castle, which happens to be a great vantage point over Bute Park, where a gigantic 'Up Yours, Corona!' blimp was flying high.
Why a blimp you might ask? Well, Greg said he was trying to make real life as much like The Simpsons as possible, and at this stage of the challenge, that seemed entirely reasonable. The Simpsons fans amongst you will know, "Hey there, blimpy boy! Flying through the sky so fancy free..."
On a much more serious note, Lottie was last on reporting duties for Greg when he launched a national campaign to get a chip shop in Holyhead rebranded to the Hippy Chippy.
6 | The moment Noel represented North Korea
No, not that Noel. After the blimp was released, there was no stopping 'Up Yours, Corona!', and Grimmy had an update, "We can tick North Korea, which we thought was going to be impossible, off the list".
A super organised Scott Mills decided to tackle the countries he thought we might struggle with on day one.
He started with North Korea and contacted BBC's South Korea correspondent Laura Bicker in Seoul, who shut him down pretty quickly.
"It's just not going to happen. North Korea is the world's most secretive state. It's not like you can access the world wide web, and all phone calls are monitored. It's not like you can even make an international phone call."
Scott then contacted Sokeel, who helps North Korean refugees. He promised to help find someone, but it was such a massive ask, as Grimmy admitted, "If we are honest, no-one here behind the scenes thought anything would come of it."
But he stayed true to his word, and we heard from North Korean Noel, who now lives in South Korea, and was happy to be part of the challenge.
7 | Steven, whose stupid idea started all of this, gave us a big 'Up Yours, Corona!'
Remember truck driver Steven whose idea kicked off all this nonsense last week?
Well, there was only one person who could represent the UK.
He gave us a big "Up Yours" and said coronavirus was, "one of those things that has divided us, but it will bring us back together, even stronger".
We then heard from every single voice from all of the 193 UN recognised countries.
And if you haven't already, now is the time to shout, 'Up Yours, Corona!'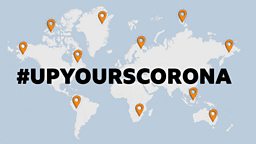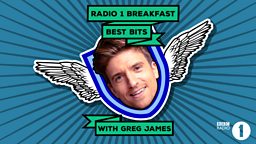 Want more daily chat and nonsense?