Main content
New Order, olden style: A unique take on Blue Monday
7 March 2022
New Order's Blue Monday was released on 7 March 1983, and its cutting-edge electronic groove changed pop music forever. But what would it have sounded like if it had been made 50 years earlier? In a special film, using only instruments available in the 1930s - from the theremin and musical saw to the harmonium and prepared piano - the mysterious Orkestra Obsolete present this classic track as you've never heard it before.
Diddley bow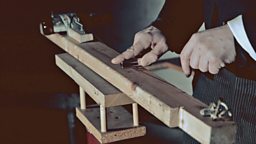 A one-stringed, home-made instrument thought to have originated in Africa and popular in the Deep South, it's essentially a string attached to piece of wood, using a bottle as a moveable bridge. R&B pioneer Bo Diddley is named after the instrument.
Hammered dulcimer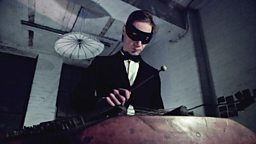 A percussion instrument featuring strings over a trapezoidal sounding board, struck with small mallets. Versions of the instrument have been in use throughout the world since at least the Middle Ages.
Harmonium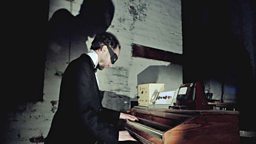 Popular with village churches and Ivor Cutler, the harmonium, or pump organ, uses bellows to generate its sound. It was first patented by Alexandre Debain in 1840.
Zither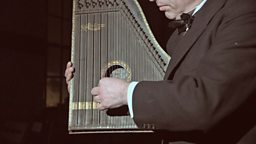 The famous sound of the theme from The Third Man. The earliest surviving zither-like instrument is the Chinese guqin, dating from 433 BC.
Musical saw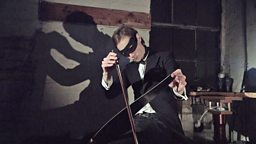 An adapted or specially made handsaw that is capable of continuous glissando, creating a sound similar to the electronic Theremin. Famous players include Marlene Dietriech, who used it to entertain troops during WWII.
Singing glasses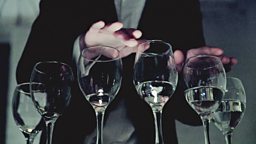 First created in 1741 by Richard Pockrich, Pink Floyd famously used them on Shine On You Crazy Diamond in 1978. Queen of the instrument is Gloria Parker, who was the leader of an all-girl band and a virtuoso on marimba and organ as well as the singing glasses.
The history of Blue Monday
Blue Monday by New Order is the biggest selling 12" single of all time. It was created using a hand-built Powertron Sequencer driving a Moog Source synthesiser, and an Oberheim DMX drum machine.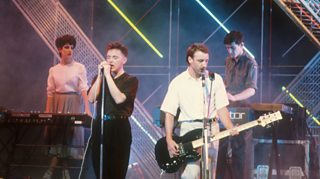 New Order performing Blue Monday live on Top of the Pops in 1983
Clocking in at seven and half minutes, it's one of the longest songs ever to grace the UK singles chart, where it peaked at No9 in 1983, and at No3 when re-released in 1988. The original artwork, designed for Factory Records by Peter Saville, was famously so expensive to produce that the label lost money on every sale.
Bernard Sumner has said of Blue Monday: "I don't really see it as a song. I see it as a machine designed to make people dance."
Theremin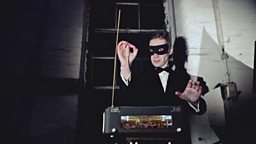 Invented by Leon Theremin in 1919, the first and only instrument that can be played without touching consists of two antennae: one that controls volume and the other controlling pitch. It was used to great effect in sci-fi movies such as The Day the Earth Stood Still.
Prepared piano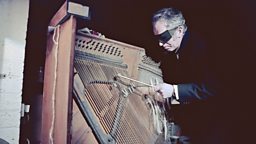 These have been used since the 1920s in various forms, most famously by avant-garde composers ranging from John Cage to Brian Eno.
Slit drum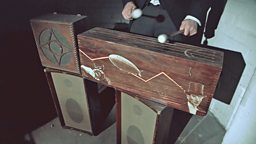 The slit drum, tongue drum or log drum is one of the earliest musical instruments, with prehistoric examples found in Africa, Indonesia, and South America. The version played by Orkestra Obsolete were made by Angus McIntyre using African hardwoods.
Dulcitone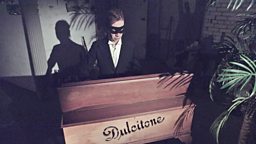 A rare keyboard instrument that uses tuning forks instead of strings. It was designed in Glasgow circa 1900 and apart from its lovely sound, its chief advantage was portability, so it was popular with missionaries in Africa.
Other instruments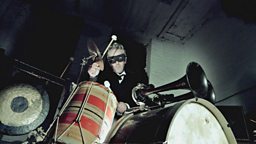 The small drum kit, double bass and banjo-uke (this one dates around 1910) would be standard foundation for any small dance band from around 1915-1930. The musical effects were made using a scratched 78rpm record, a Theremin and some reel-to-reel tape echo.