Main content
Watch immersive opera The Passion in full
27 March 2018
Immersive opera The Passion was first performed by critically acclaimed charity Streetwise Opera and world-renowned ensemble The Sixteen at Manchester's Campfield Market in Easter 2016. In partnership with The Space, we're giving you another chance to watch it in full, until 11 April.
About the production, by Mel Spencer
Bach's St Matthew Passion is something of a staple in the Easter musical calendar; as synonymous with Good Friday as Handel's Messiah is to the Christmas period (or indeed, Easter Sunday).
With a vast chorus of singers, full orchestra, and elaborate solo passages - not to mention its length of almost three hours - this is not a piece to be taken lightly.
The untrained singers are currently gearing up for the ultimate Easter performance
And that's before you take the subject matter into consideration: a gruelling account of the arrest, trial, and crucifixion of Jesus Christ, taken from the gospel of St Matthew.
Not the most cheery of repertoire choices, then, for Streetwise Opera Manchester, a group of people who have experienced homelessness and other members of the community.
This dynamic group of performers get together each week to sing, support each other and be defined not by difficulties in their personal lives, but by their creative skills.
Undeterred by Bach's Biblical behemoth, the untrained singers geared up last year for the ultimate Easter performance: a brand new adaptation of the work on Good Friday and Holy Saturday, alongside award-winning choir The Sixteen, in a site-specific performance in Manchester.
To do this, it took more than two years of planning, rehearsals, and a ruthless edit of almost half of the original music.
More Bach on the BBC
A season of concerts, drama and documentaries on BBC Radio 3 and Radio 4 for Easter 2017.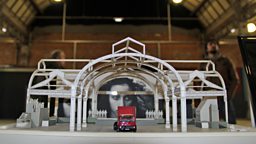 Dick Bird's model box design in Campfield Market (Photo: George Want)
"To take one of the greatest works ever written, abridge it and stage it would be deemed by many to be sacrilegious," says Harry Christophers CBE, founder and conductor of The Sixteen. "But Bach's colossal St Matthew Passion is the perfect work for us to explore confrontation, rejection, loss and finally hope and in a mere 70 minutes."
Even in an abridged version of the music, there's certainly no shortage of these gloomy themes, but what of the hope?
Bach's original musical marathon is relentlessly melancholy. The piece ends with the unambiguously titled Wir setzen uns mit Tränen (We sit down in tears), and the audience is rewarded, not with the certainty of the resurrection, but with an agonising clashing chord as the music fades to an eerie silence.
The message we're left with is universally human: redemption after suffering, a glimmer of hope after utter despair
Cue Streetwise Opera CEO Matt Peacock and award-winning director Penny Woolcock, who in 2014 invited Scottish composer James MacMillan to create a new uplifting ending to the piece.
The result is The Passion: an adaptation of Bach and Bible, with the universal messages of suffering and redemption brought sharply into focus by MacMillan's modern-day 'resurrection' finale.
The libretto, written by the performers themselves, packs a hefty emotional punch. To create it, Woolcock asked the performers to imagine they were the only survivors of an earthquake in Manchester, before picturing how they might feel after the destruction.
"I awoke today to no signal / Lonely, helpless and afraid," the text begins. After an hour of immersion in the story, regardless of your religious persuasion, it's hard not to draw parallels between these new words and the abandonment of Jesus, left to die on the cross. But it's clear these lyrics are more than just a creative writing exercise: there's real experience in every line.
The message we're left with is universally human: redemption after suffering, a glimmer of hope after utter despair. And an unspoken, yet present, nod to the positive impact Streetwise Opera is having on the performers taking part in the project. "Together we're singing. We'll build a better place on the one that's been destroyed."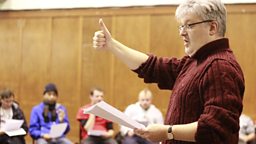 James MacMillan creating the 'resurrection finale' with Streetwise Opera performers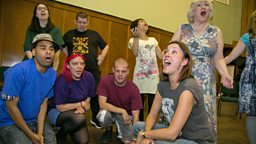 Streetwise Opera performers and The Sixteen in rehearsal for The Passion (Photo: Matt Priestley)