Main content
Sitting for David Hockney
Art critic Martin Gayford had known David Hockney for two decades, but only after the artist relocated to LA did he learn what it's like to be painted by the modern master.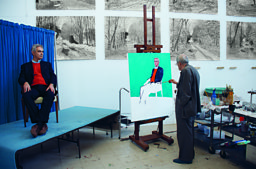 David Hockney painting Martin Gayford (photo:Jean-Pierre Goncalves de Lima)
The 82 portraits in David Hockney's new exhibition at the Royal Academy are an updated parallel to Shakespeare's seven ages of man (and woman): a human comedy in visual terms. The sitters are young and old, fat and thin, straight and gay, Brits and Americans, black and white, male and female, long-standing friends and new acquaintances. Some are famous, some are not. And I found myself cast as one of the characters.
In December 2013 I went to stay with Hockney in Los Angeles. At that point, the portrait cycle had just begun, every few days he was embarking on a new picture of a different sitter - so it seemed a good idea to volunteer as a model. Although I have known Hockney for some two decades, I'd never previously sat for a portrait or seen him at work on a painting.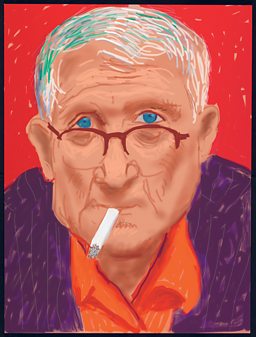 Self Portrait, 20 March 2012 by David Hockney (iPad drawing printed on paper, mounted on Dibond, photo: Richard Schmidt)
Once you have been selected as a sitter, I discovered, you enter a slightly different world. I walked into the studio on the first morning, and was instructed to sit on a chair on a low stage. The pose was up to me, though issued a mild warning: "You'll have to keep your legs crossed like that for a long time" - so I positioned them in a more comfortable way. From then onwards, he began concentrating deeply, drawing and painting, pausing at intervals to smoke and contemplating what he had done.
The whole process lasted three days, or - as Hockney likes to put it - it's a 20 hour exposure. That was one of the ground rules of the series. Each sitter was observed for more or less the same amount of time, seated upon a low stage on the same piece of furniture: a simple wooden chair which - paradoxically - forced everyone to arrange their limbs and body differently.
Martin Gayford, 4-7 December by David Hockney (2013, acrylic on canvas, photo: Richard Schmidt)
Thus the standardised format emphasises each sitter's individuality. My crossed legs - and for that matter my old suit and folded hands - were considered, I later found out, very British, and quite unlike the way an Angelino or a New Yorker either dressed or sat in that chair.
Even though it's made up of pictures of some 80 individuals, the exhibition adds up to a single study in comparison and contrast. It brings out the interplay between extrovert and introvert, smart dressers and casual, youth and age. The youngest, Rufus Hale (son of the artist Tacita Dean), is 11, the most senior in their 80s.
This series of portraits marks Hockney's relocation to LA, which has been in many ways the city of his heart. But this return was under the bleakest of circumstances. Towards the end of his period of living and working in Bridlington, Hockney suffered a minor stroke. A few months afterwards, one of his young assistants died a terrible and shocking death. He arrived in Los Angeles in a state of miserable depression. The portraits chart his return to energy and enthusiasm.
As time went on he added more and more characters to the cast of his human comedy. It turned out that many people, even very busy individuals, would be happy to give up three days to be painted by David Hockney. Barry Humphries took his place on the little stage, the art dealer Larry Gagosian and the architect Frank Gehry sat there; so too did Hockney's masseur, his housekeeper and all the staff of his studio. The exhibition is an informal assembly of Hockney's world.
Martin Gayford's book A Bigger Message: Conversations with David Hockney is published by Thames & Hudson.
Listen to him present David Hockney – Back in LA on Radio 4 on Mon 27 June at 4pm and then online.
More from Seriously...
The Sex Pistols visited Yorkshire twice, but what impression did they leave?

Pet Sounds and Blonde on Blonde were both released on 16 May 1966, but which do these lyrics come from?

Ian McMillan watches from the side lines in South London

Jolyon Jenkins investigates whether meditation can do you more harm than good.

The band member recalls the anarchistic joy of a truly unique group.

The team of recovering addicts who made their mark on cinematic history.

David Aaronovitch on how an Eastern political tract became a Western icon.

David Bowie's interviews reveal his humour, passion and determination to succeed.

Did Nazi leader Hermann Goering have a brother who saved innocent lives from the Holocaust?

A selection of great female authors who have radically altered the genre.

Mat Fraser meets the former striptease stars back on the stage in their 70s and 80s.

A poetic retelling of the Orpheus myth, from the celebrated writer Neil Gaiman.

An aspiring singer-songwriter meets the man who predicted the demise of the music industry decades ago.

What have you learned from our documentaries? Try our fiendishly difficult quiz...

Kellie Redmond explores Disney's fascinating contribution to the war effort.

The Simpsons star, satirist and actor reflects on the flood that devastated his home town of New Orleans.

Meet five codebreaking women who helped beat the Nazis and are still alive to tell their tales.

The award-winning writer on porpoise dissections, stranded whales and beached dolphins.