Main content
The charity getting to the root of knife crime
We Can Change The World is a new podcast series aimed at young people to inspire and encourage others to make a difference. Presenter Isy Suttie is joined by Eliza Rebeiro and Abigale Wray, who talk about working tirelessly to get to the heart of wiping out knife crime through the Lives Not Knives charity.
Eliza, who grew up in Croydon, was just 14 years old when she witnessed her friend being stabbed in the neck.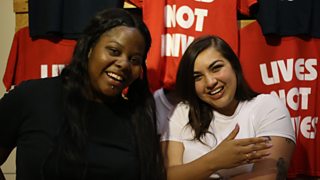 I want young people to not feel as much pain as I ever did in life.

Abigale, Lives Not Knives
Eliza says, "I don't think at that time I necessarily understood what was going on and how he could have died." It wasn't until she lost a friend a few years later that she really understood the pain of losing somebody to knife crime.
To raise awareness Eliza started printing t-shirts with the slogan Lives Not Knives and soon enough the demand for the t-shirts grew. More t-shirts were sold until they had enough funds to organise an event that turned into a celebration of young people having fun without violence.
Eliza explains, "The reason I started Lives Not Knives was to show that young people needed more support, at that time we were being called the ASBO generation. They were saying that basically all young people were carrying a knife and stabbing each other and there was really no positives in the media about young people. So what I wanted to do was say 'yes we need to put down the knives but we also need to promote that not every young person is doing it', so that young people do feel safe to leave their houses and do feel safe to do positive things."
Abigale talks about what it was like growing up in Croydon, "It was an unpredictable place you know, if you say the wrong thing to certain people, having to worry about their reactions, things would happen day in and day out that you just really wouldn't expect."
Eliza goes on to say, "I kind of think that I was lucky enough to see two different worlds. My family raised me to always have dinner as a family. We were all very close, we went on holidays every year and it wasn't until I was kicked out of school that I saw a different side, I guess, to Croydon. I realised that there is poverty on my doorstep, there's young people that don't necessarily have the life that I had - that didn't have food on the table and there's reasons as to why they are involved in youth violence."
At a time when knife crime is becoming daily news, Eliza and her team are passionate about providing young people with opportunities to improve their way of life. "Knife crime is a major issue in our community," says Abigale, "I want young people to not feel as much pain as I ever did in life."
Now a youth work apprentice for the charity, Abigale shares her first hand experiences of the misery that people carrying and using a knife can bring – and now educates thousands of school children in her home town through her Lives Not Knives work. "I want young people to know you can have your troubled times, it's not going to be the end of the road, you know."
It is made clear in the podcast that there is still work to do all over the country, when Abigale reveals the shocking reality of how easy it is to get hold of a knife; "one of our work experience people showed us online how easy it was to purchase a knife. It was strange 'cause there was like no security questions to purchase this item and when it was delivered it had cake decoration equipment on it. It was cheap."
Eliza and her team continue to provide young people with the support they need to go on a path through life, where knives are no longer a part of it - spreading the word about the dangers of knife crime and gang culture. Eliza says, "our aim is to prevent them from getting involved, I think we give young people the knowledge to be able to understand why you wouldn't get involved in the first place."