Main content
The unsung heroes of German Pop Art
12 August 2015
When you think of Pop Art, which countries spring to mind? America? Britain? Or Germany? German Pop Artists never received the same acclaim as their American or British counterparts, but Pop Art was just as big and bold in West Germany as it was in the UK or the USA. WILLIAM COOK visited a colourful exhibition last November at Frankfurt's sleek and stylish Schirn Kunsthalle, which finally gave these neglected artists the belated recognition they deserve.

The term Pop Art was coined by British art critic Lawrence Alloway back in 1954, but it was during the 1960s that this playful movement took off.
Tired of Abstract Expressionism and dreary Social Realism, artists embraced the cheap and cheerful iconography of mass consumerism. Americans like Roy Lichtenstein played around with newsprint and comic strips. Britons like Richard Hamilton made collages from adverts and cartoons.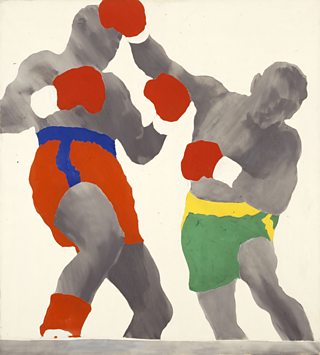 Konrad Lueg - Boxer, 1964 © VG Bild-Kunst
British Pop Art was ironic and nostalgic, but in West Germany the cultural landscape was very different. During the 1960s, as their economy recovered from the devastation of the Second World War, West Germans began to enjoy some of the same luxuries that Americans had enjoyed throughout the 1950s. Britain enjoyed a parallel recovery, but West Germany's was more dramatic – and its relationship with America was more complex.
America had liberated West Germany, but it had reduced its cities to rubble. Its occupying army were here to protect West Germans from the Soviet Union. However they were also here as conquerors, of a disgraced and vanquished nation.
'Pop Art in Germany wasn't as optimistic as it was in America,' says Max Hollein, the Schirn's director. Lively and provocative, this exhibition proves his point. While American Pop Artists like Andy Warhol celebrated the bland ubiquity of supermarket packaging, German Pop Art couldn't escape the long shadow of the Third Reich.
Thomas Bayrle's Nurnberger Orgie (1966) was the most overt expression of this dark legacy – a Nuremberg rally reduced to the clumsy mechanics of a children's toy. Other artworks were more oblique. At first glance, Winfred Gaul's Lincoln's Dream (1962) looks like a harmless painting of an ice cream sundae. It takes a while to work out what makes it so disconcerting. Finally, the penny drops: it's the red, white and black backdrop. Even without a swastika, the conjunction of these three colours is enough to summon up Hitler's ghost.
During the early Sixties, America projected a positive image in West Germany – the land of James Dean and Elvis Presley. John F Kennedy was hailed as a saviour when he visited West Berlin, and mourned as a martyr when he died. However as America became embroiled in the Vietnam War, German Pop Art became more political. Wolf Vostell's Lippenstift Bomber (1968) depicts a B52 dropping lipsticks instead of bombs (Allied planes that dropped food parcels during the Berlin Airlift were nicknamed Raisin Bombers).
Since the Second World War, Frankfurt has become the most American city in Germany. It was the European HQ of the American army, the site of Germany's first skyscraper and Germany's first US style supermarket. This makes Frankfurt's Schirn Kunsthalle a fitting forum for this group show.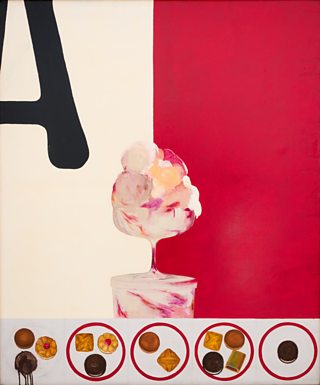 Winfred Gaul - Lincoln's Dream (1962) © VG Bild-Kunst
Yet although Frankfurt was one of the main centres of German Pop Art (along with West Berlin and Munich) the movement actually began in Dusseldorf. That Rhineland city remained its powerhouse, driven by Gerhard Richter and Sigmar Polke - the only two artists in this ensemble whose work is widely known abroad.
Yet although this retrospective would be incomplete without Richter and Polke, the biggest thrill is discovering all the other artists who are almost unknown in Britain: Konrad Lueg, Manfred Kuttner, Lothar Fischer… Never heard of them? Me neither, until I saw this show. British Pop Art is widely known – and widely seen – in Germany. German Pop Art, conversely, is virtually invisible in the UK.
It was ever thus, not only in Britain but also in Continental Europe. The Dutch Pop Art show which toured to West Berlin in 1964, and heralded the arrival of Pop Art in Germany, featured work by American and British artists, but nothing from Germany. German curators and collectors reflected this prejudice. During the Sixties, they bought American Pop Art in abundance.
Cologne's Ludwig Museum has the biggest collection of American Pop Art outside America. Frankfurt's Museum of Modern Art (just around the corner from the Schirn) has the second biggest. Meanwhile, many artists in this show merely scratched a living. When the show's curator, Dr Martina Weinhart, visited the artist Ludi Armbruster, she found her canvases rolled up in a cellar. One of these forgotten canvases now has pride of place in this exhibition. Sadly, Armbruster died a few months before yesterday's opening.
This groundbreaking show, the first of its kind in Germany or elsewhere, aims to redress this indifference to German Pop Art. It's also a signal of a new self-confidence in Germany. Ever since the Second World War, many German institutions have been loath to use the word German, for fear of sounding nationalistic.
Even this title, German Pop, is a sign of changing times. Today, Gerhard Richter is the world's most expensive living artist. Sigmar Polke currently has a posthumous one man show at Tate Modern. Who knows? Maybe these other artists will be equally renowned in years to come.
German Pop was at the Schirn Kunsthalle, Frankfurt until early 2015.
The original version of this article was published in November 2014.
Artwork information

Konrad Lueg - Boxer, 1964

Sammlung Kaspar Fischer, Bochum © VG Bild-Kunst, Bonn 2014

Winfred Gaul - Lincoln's Dream, 1962

Photo: Dieter Schleicher, Karlsruhe © VG Bild-Kunst, Bonn 2014
Pop Art Features
A dissenting view from the global artists represented at The World Goes Pop exhibition at Tate Modern.

Can Pop Art really trace its origins to the work of a couple of artists from Scotland?

Stephen Smith compares the courts of Andy Warhol and the original Sun King, Louis XIV - with the Factory as a 1960s Versailles.

Watch the BBC Four Goes Pop! channel idents by Peter Blake, Derek Boshier & Peter Phillips.

Find yourself in the midst of a typical day for Pop Artist Andy Warhol in the mid-1960s.

Controversial British Pop Artist Allen Jones is the guide around his Royal Academy exhibition.

A Career in Quotes: What the critics said about controversial British Pop Artist Allen Jones.

Follow Andy and his entourage as they tour London in 1970, meeting David Hockney and film critic Dilys Powell.

A fascinating look inside The Factory in 1965, as filmmaker and activist Susan Sontag visits while Andy is filming.

When Everyone Could Own a Warhol: Andy Warhol's 1950s album covers for hip jazz labels such as Blue Note.

The Factory 1964-1970: Billy Name's iconic images of Warhol's Silver Factory, with the Velvets, Nico, Warhol superstars & Dali.

William Cook on the exquisite colours of German Pop at an exhibition in Frankfurt.

Artworks from the bold and brilliant pioneers who shaped Germany's 1960s pop art scene.