Main content
In Pictures: Five of the Irish Sea's most picturesque coastal spots
The new series of BBC Two's Our Coast explores four beautiful coastlines linked by the Irish Sea and what makes them unique. If you've never visited, we've taken snapshots of the special places featured in this series so you can appreciate them too.
1. Strangford Lough, Northern Ireland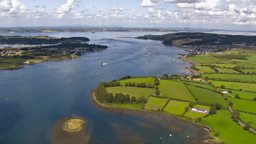 The largest sea loch in the British Isles is known for its incredibly powerful tides and whirlpools (or boiling eggs, as the locals say). Some 350 million tonnes of water go back and forth out of the Irish Sea every six hours, and even the Vikings were intimidated by it. The name Strangford comes from the Old Norse Strangr-fjörðr, which means "strong sea-inlet".

Strangford Lough was named as Northern Ireland's first Marine Conservation Zone in 2013, and you can see why. Mike McClure has been a sea kayak coach there for 30 years, and loves it. "Even when it's cloudy and wet, it's just such a beautiful environment, the waves and the rocks and the greenery around us." But it's the powerful tides that he really enjoys. "Just look at how much water is moving out of the narrows here. It's phenomenal."
2. Sefton Coastline, Merseyside, England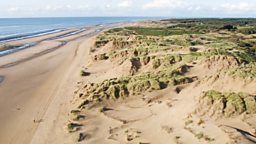 A site of specific scientific interest, Sefton Coast stretches for 12 miles between Southport and the end of Crosby Beach. Environmental Scientist Tara Shine says: "It's a remarkable piece of coastline, with beaches, mud flats, woodlands and an internationally-recognised sand dunes habitat forming a barrier between the sea and the towns of Southport and Formby."

Bird spotters, dog walkers and adventure sports enthusiasts alike love this stretch of coast, but its incredible sand dunes, which represent 20% of all the sand dunes in England, are retreating at a rate of three metres a year, as coastal erosion threatens the entire area. Kate Martin, from the National Trust, manages the area and says Formby is still naturally protected: "Sand dunes are amazing as a sea defence, as they move and shift to face the threat." And why are they so important? As well as protecting the town, the dunes protect the Formby forests, one of the last natural habitats of endangered red squirrels.
3. The Swellies, Anglesey, Wales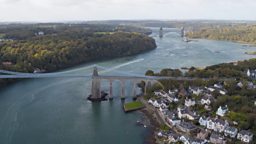 The waters between Britannia Bridge and the Menai Bridge in North Wales are known for being particularly treacherous as well as beautiful, as the tide in the straits approaches from both ends of the channel. Getting across has always been key to the people of Anglesey.

Before Thomas Telford's Menai Suspension Bridge was built to allow traffic to cross between Anglesey and mainland Wales in 1826, farmers had to find a point at low tide to get their stock across, which was often perilous. These days, crossing by boat is a thrill-seeking affair. Jet boat pilot Tom Ashwell knows the waters well. He says: "The little whirlpools that define what the swellies are, where the name comes from, these are formed by a backeddy of water that just flows up the shore there and hits the water coming in."
4. Newborough Beach, Anglesey, Wales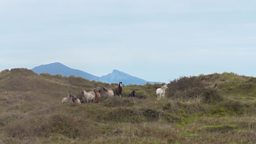 About 700 years ago a huge storm covered hundreds of acres of farmland here in sand, creating the dune system, wildlife expert Patrick Aryee says. Now a rare native breed of Welsh mountain ponies graze on the impressive sand dunes and stop them being overtaken by thick marram grass.

"Because they're so hardy, you don't have to take them into the stable, you can leave them out. A perfect grazing animal," Patrick says. The fresh mineral top sand they loosen is blown across the dunes giving other plants a chance and encouraging greater biodiversity.
5. Ailsa Craig, Scotland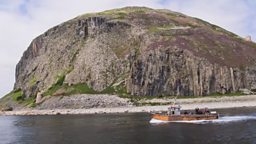 Ailsa Craig, or Paddy's Milestone, was a safe haven for Catholics during the Reformation period in the 16th Century, although it has been uninhabited by people since 2013, after the last harvest of granite for curling stones! It plays its part in our coastal story as a bird sanctuary, cementing its place as a stronghold for a huge Northern gannet colony.

"This is such a spectacular view, visually a feast for my eyes," says wildlife expert Patrick Ayree, who visited for the programme. "Its columns of granite end up in top ledges, and there are thousands of sea birds that use these columns as nesting perches," says Crystal Maw from the RSPB, putting the colony at an incredible 75,000 birds.

Our Coast begins on Friday at 8.30pm on BBC Two and BBC iPlayer.