Main content
'Alex Ferguson in musical form' – how conductor Chris Bradley composed the music for Scotland's Game
By Chris Bradley, Composer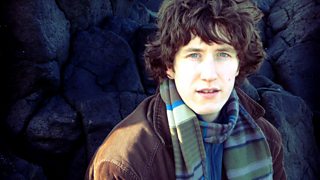 My brief for the series
I met and discussed the project with the Series Producer, Stuart Greig on numerous occasions prior to starting any compositions in an effort to get a proper 'feel' and a greater understanding of the atmosphere required.
He didn't come at me with any specific requests regarding the music but instead described the gritty, dramatic and potentially controversial nature of the films already taking shape in the edits suite and what 'tone' was developing.
We had worked together on a BBC documentary series some years before and had developed a good working relationship, so I knew from the offset I'd be writing some very involved, intense and possibly explosive music – and that's exactly what we've ended up with.
Aesthetically I was given plenty of scope and I did enjoy a certain freedom to go through my processes, which isn't always the case on big projects. I simply started drafting ideas, going with my instincts, and then I would send them in to the edit team in BBC Scotland – they would send the sequence back with notes... and so the process continued.
Between myself and the team, we had a healthy ongoing dialogue back and forth and things developed from there. I would come in to the edit suite every few weeks to talk things through, refining and altering things as we went. Interestingly, as the films became tighter and more focused with the editing process, I found I was often needing to push tempos up, so that the music held pace with the onscreen action.
I wanted to have unsafe, untamed, aggressive and abrasive soundscapes to try to convey the social unrest that permeates a lot of the stories. Throughout the series you'll hear these sounds grinding away in the background and I found they worked well to bring out the darker side of Scotland's Game.
In some cases I would watch a particular story thread and then generate a specific theme for it and sync it exactly, picking out bits of onscreen action with instrumental stabs, flourishes or percussive hits.
In other cases, I would write 'beds' that would be more readily useable across a variety of contexts.
These are typically simple, atmospheric and repetitive pieces, useful in sustaining a feel or emotion delicately, without distracting the viewer from the narrative.
In the case of the end title theme there's any number of ways I could have approached it. Eventually I decided I would boldly try and encompass everything about the series in the 30 seconds I was given. Thus I was looking for it to sound frenetic, complex and dark, brimming with tension.
The films go deep into the violence, political turmoil and our perennial signature of 'glorious defeat' on the pitch. I thought, how can I express that in music?
I've ended up with a furiously busy piece, quite a rush of musical activity. I've entitled it 'Heady Brew', which feels suited to the piece and to the whole series. When you hear it, of course, the screen is black and the credits are rolling and there's no onscreen action to contend with.
One tries to pull out the stops and step up to the plate! BBC sports theme tunes have become a genre unto themselves. In the same way singers want to do the Bond theme, every composer out there wants to write a BBC sports theme.
Writing it, for me, was one of the highlights of the whole project.
Instruments, software and other digital tools
I work through Logic Pro 9 and have a variety of 3rd party sampled instruments and plug ins.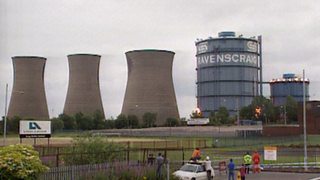 On top of that I played quite a lot of live percussion, sound effects and acoustic guitars, that were recorded at my home studio. The orchestral strings you hear in the score are LA Scoring Strings 2 – a real live sampled orchestra, very good quality.
I think most people would struggle to tell the difference, especially on simple textural string arrangements, between it and a real orchestra.
The most difficult part
The opening scene was the one I spent probably the most time pondering, wanting to get it right.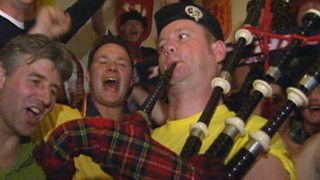 Music can very quickly establish feelings and sentiments – probably even quicker than visuals so the composer has a responsibility, even from the first few seconds, to put the right inflection on things.
I kept on coming back to the notion of 'glorious defeat', but rather than that being the sole mood of the music, I tried to build into it a feeling of possibility as well.
I've taken a line that Paul Lambert says during the series ("Scotland weren't going to win the World Cup – well, you never say never") and used it for the title of the piece 'Niver say Niver' (couldn't resist giving it a broad Scots phonetic spelling!). So while there's kind of a sense of loss in the music, it's also strangely uplifting.
My favourite piece
One of the pieces is called 'The Rise of Fergie' which comes in with the telling of Alex Ferguson's story.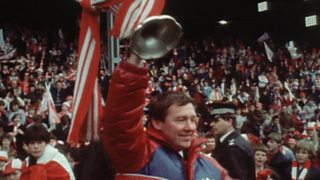 All of sudden I'm not writing about 'glorious defeat' anymore. I worked out a chord sequence that I felt expressed fortitude, belief, pride, success; everything that defines Alex Ferguson. All that, but with a sense of balance, because although he's clearly brimming with confidence, I don't think you could ever call him arrogant.
I established a chord sequence that could hold the feeling I was after, and then I went about embellishing it with a huge, heavy drum ensemble.
I also chose to give it a half-time feel so there's a very slow and deliberate groove in the percussion while some of the instrumentation is more urgent.
On top of it all is a very simple and elemental piano melody in which each note rings, apparently indefinitely – notes that never decay in volume.
Basically, Alex Ferguson in musical form.