Main content
From matching tattoos to transatlantic trips: Kesha fans dish on their dedication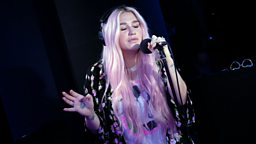 ICYMI, last week Kesha made a pit-stop at Radio 1 HQ for a Live Lounge set that we've had on repeat ever since (#facts).
While the candyfloss-maned star prepped her vocal chords for acoustic versions of Learn To Let Go and Marshmello's Silence, we headed outside the building to chat to the legion of loyal fans hoping to get a moment with their favourite artist.
Live Lounge session within...
From catching flights to catching feels (Kesha's music will do that to you), we chatted to three fans who have, over the years, travelled far and wide to meet the woman responsible for the music that dominates their playlists. Enter: Monika, Michael and Joyce.
What is it about Kesha that they love so much? (In short: EVERYTHING.) How far have they travelled to see her? (Let's just say that the accumulated air miles are impressive.) Have they ever been inked in her honour? (Affirmative.) But don't fear guys, the love is more than reciprocated on Kesha's end. All these questions and more, answered below...
First things first, Kesha's love for her fans is unparalleled
Demi has her Lovatics, Gaga has her Little Monsters, Beyoncé has her Beyhive and Kesha has her Animals. Every musician has their faithful following and Kesha's connection with hers is legit.
"We're all just people," Kesha told Clara. "We all just want to have a good time and connect. There's a lot of love there, both ways. So much love between my fans and I, it's hard to describe.
"They've been there for me at the craziest times in my life but also the most beautiful times, so I owe everything to them. [Rainbow] wouldn't exist without them. The thank you on this record just goes on and on and on, so I hope that if you're a fan, if you're an Animal, I hope you've read it because I thank you very much in this record because it's for you."
Case in point: getting matching tats with her Animals
What does a wild night with your fave star entail, you might wonder? In Kesha's case, matching tattoos might be on the cards.
I have 'animal' tattooed on my foot forever because of a wild night I had with my fans

Kesha
"I actually have gotten tattoos with my fans and one of [my fans] last night was like 'do you remember me?' and I'm like 'of course I remember you!' I have 'animal' tattooed on my foot forever because of a wild night I had with my fans. I definitely go out sometimes with them and get into trouble."
Chatting outside of R1 HQ, Michael detailed the events of the night before which included - you guessed it! - a Kesha tattoo. After attending Kesha's Brixton concert, Michael had Kesha sign his arm and immediately marched the signature to his dad's tattoo studio, where the initials were made permanent.
"I thought while she was onstage last night... I asked if she didn't mind [signing my arm], so I literally had to climb over. It really made me happy. I went straight to the tattoo shop at 12:20 because my dad owns a tattoo studio and he said 'I take it you wanna get that done'. Dedication!"
Tats aside, what lengths do her fans go to to see their fave?
We're talking literal lengths. Air miles. Hundreds of them. Another Brixton gig attendee, Monika, had travelled from Poland to see Kesha perform in the UK.
"We even rescheduled our plane from Tuesday to Friday because we had already booked flights to go to the concert [but] she made it official about the concert [date] after we already had our tickets, so we rescheduled it! But it's good because today we have a chance to meet her."
Is this pretty standard procedure for a die-hard fan?
"Going to concerts is all about getting to know people and it's so lovely because I have so many friends from other countries. It's so cool." Gesturing to the crew of fellow Kesha fans around her, Monika elaborated: "We're from Poland but we're not even from the same cities, yet we are here in London."
What does Kesha mean to her Animals?
Joyce: "The way she thinks about things like the world is just inspiring. She's like 'OK, someone I don't like is being not nice to me but that doesn't mean I have to be rude to them, I'll just keep on living my life and doing what I do and helping others' and that's what's really inspiring to me."
She was brave enough to show the world that she had weaknesses and those weaknesses made her stronger in our eyes

Monika
Michael: "I've been there since day one. I went to the first ever UK Kesha tour and I met her... She's everything. Even when Gaga come about, she was still doing her own thing. She's always genuine, she'll always come over to everyone and talk to everyone."
Monika: "I love her because she is so real. She [came] such a long way and was fighting so hard and the whole world was watching. She gave strength to so many young women and she was brave enough to show the world that she had weaknesses and those weaknesses made her stronger in our eyes. She gave us this strength. This is why I love her."
And what do her Animals mean to Kesha?
Everything, basically.
"My favourite thing is my fans. Last night, my mum was there and I was just like crying because at one point my fans synchronised and put up signs - I don't know how they all got together and made matching signs?! - but it was just so moving because that's so nice and these are people I've never met and I'm so grateful for their love and their support.
"And I want them to know how much I love them back."