Main content
'It's insane' – Olympic medal winner's reaction to 12-year-old Ugandan water-carriers.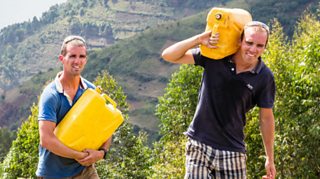 Peter Chambers knows a thing or two about thirst.
An elite athlete who won a silver medal at the 2012 London Olympics and Gold at the European Championships for rowing, his body is in optimum condition, and he knows better than most how essential proper hydration is.
Yet for all his training nothing could quite prepare him for what he discovered in South West Uganda...
Photo: © Marcus Perkins/Tearfund
Travelling with the charity Tearfund, Peter and his professional athlete brother Richard stayed for a week in a village in the Ugandan mountains and tried to keep up with Doreen (aged 13) and Jouvllet (aged 12) as they went about their daily routine of fetching water for their families.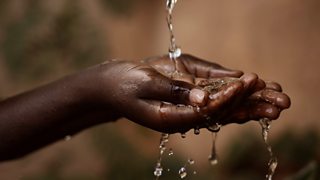 Rising early, the girls ran for 45 minutes down the mountain to the nearest water source to a lake. Then, after filling their jerry cans up, they then walked 90 minutes back up the mountain, each carrying 20 litres of water. Peter's reaction: "It is insane!"
Reflecting on the stamina of the girls he met, he added: "Think back to when you were 12 – imagine holding a 20kg weight from a gym. You might be able to hold it up for 30 seconds. But these girls can carry that weight up a mountain for 90 minutes… every day."
For medal-winning athletes this was a tough challenge. But for these two young girls carrying half their body weight in water 1500 feet up a mountain was just an ordinary day. They had been doing it since they were five years old. And there was no time for dawdling or resting – they had to get to school for 9.00am sharp.
And if that wasn't tough enough, they had to do it again in the evening, often avoiding heckling from the men returning from work.
Peter and his brother were so challenged by the girls that they partnered with Tearfund for their One Big Mountain campaign, which raised over £230,000, helping to provide clean water for the village and the surrounding area, so girls like Doreen and Jouvllet no longer need to fetch their water from so far away.
The Sunday Worship broadcast for Lent 2 – Invitation to Service – includes songs, prayers and readings on the theme of thirst and will help anyone seeking to develop their sense of what it is to serve.

Spiritual journeys on Radio 4
Ethical and religious discussion that examines some of the larger questions of life.