Main content
Poldark's Cornwall locations
Much of the action in Poldark takes place outdoors, against the backdrop of Cornwall's breathtaking and rugged coastline.
Here you can find out a bit more about some of the individual locations and how they were used.
Charlestown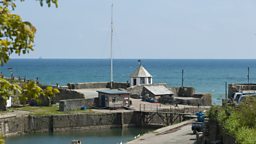 Charlestown near St Austell, famed for its collection of ships and traditional appearance, has long caught the attention of location managers and for the filming of Poldark stood in for Cornwall's city of Truro.
The original Grade II Listed harbour is complete with Tall Ships and is perfect for Winston Graham's (Poldark's author) 18th Century setting.
Porthgwarra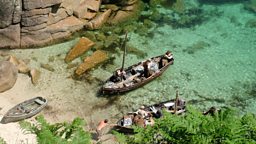 Once a thriving fishing cove, the beautiful Porthgwarra sits at the heart of St Aubyn Estates and boasts a peaceful existence with its days surrounded by wildflowers and birdlife.
The tunnel cut through the rock makes it perfect for swimming and rock pooling while the South West Coast Path offers unsurpassed views.
Bodmin Moor and St Breward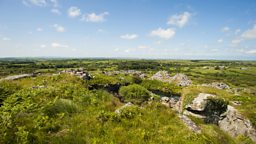 The cast and crew found themselves on Bodmin Moor for a large part of their time in Cornwall.
Scenes featuring the exterior of Ross Poldark's cottage, Nampara, were shot here along with many capturing the cast on horseback.
With a rugged character and wild streak, Bodmin Moor provides the perfect backdrop to Poldark's plot of passion and family dramatics.
Botallack to Levant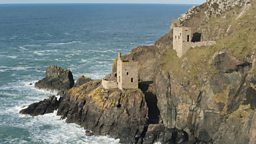 Location managers couldn't resist the rich mining heritage of the stretch of west Cornwall coast linking Botallack and Levant.
Cameras rolled with Levant Mine playing the role of the fictional Tressiders Rolling Mill while Owles and Crowns near Botallack starred as Ross Poldark's Wheal Leisure.
Padstow area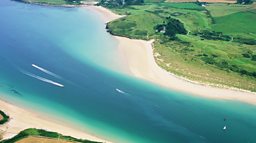 For some of the cliff scenes the action moved to the Padstow area.
Fans of north Cornwall will recognise the spectacular views across the Camel Estuary and Tregirls beach, while the beauty of the wide sandy beach of Porthcothan is hard to miss in the scenes featuring Poldark's fictional Nampara Cove.
St Agnes Head
The engine houses perched on the cliff edge at St Agnes Head give a sense of the scale of the mining industry in Cornwall.
In Poldark the area was used to represent the Nampara Valley, part of Poldarks' family estate.
Gunwalloe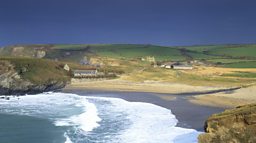 Gunwalloe on The Lizard relived its smugglings past when Aidan Turner and a hoard of other cast members and extras descended to film night-time ship wrecking scenes.
An attractive sandy cove overlooked by the tiny church of St Wynwallow.
Porthcothan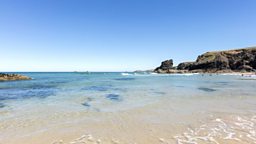 Porthcothan beach near Newquay is a north west-facing cove backed by grassy dunes, and was used as Nampara land along with shots of Hendrawna Beach.
Holywell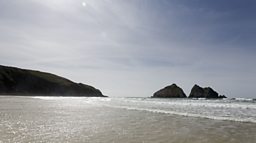 This huge beach of golden sand backed by grass tufted dunes is a perfect example of the north coast's wide open bays.
Owned by the Warleggans, Holywell Bay and its iconic Gull Rock act as the backdrop to some scenes in series two.
Porthcurno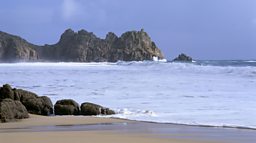 Porthcurno plays Nampara Cove in Poldark. With gorgeous fine soft white sand washed by a sea that turns turquoise in the sun and high cliffs on both sides providing shelter, it's an oasis of stunning natural beauty.
Kynance Cove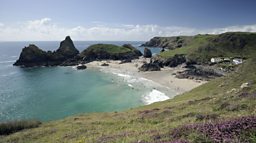 With its pure white sand, turquoise waters and serpentine rock-towers, Kynance Cove doubles up as Poldark's beloved Nampara. At low tide there are sea caves and islands to explore.
Predannack Wollas, The Lizard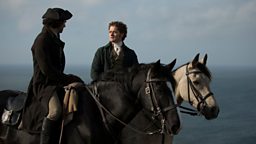 The wild qualities of this windswept headland and wild-flower strewn cliffs provided the location for many of Poldark's charges on horseback.
Park Head, near Porthcothan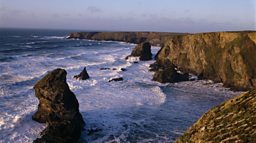 The cliff tops at Park Head offer views across to the towering sea stacks at Bedruthan Steps . It's these very views which appealed to the team creating Poldark, so keep an eye out for scenes featuring Ross on horseback galloping across this very headland.
More Information
For more information about Cornwall and the real-life locations go to the Visit Cornwall website.